Car Boot Sales
Northamptonshire
Tweets by @britevents
Ten of the best
1Battersea Car Boot Sale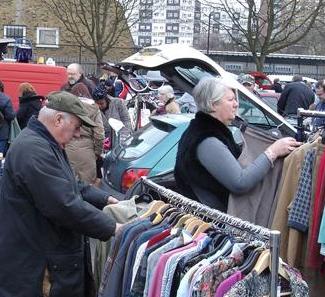 Running since 1999, Battersea Boot is no ordinary boot sale. Often compared with Portobello Market for its sheer range of goods available, it attracts a wide range of sellers, including vintage, designer clothes, collectables and second-hand bric-a-brac items.
2Brighton Race Course Car BootRunning since last April, the Brighton Race Course boot sale is open between 10.30am - 4pm, perfect for those who don't want the early start. Held every Sunday, the organisers allow sellers to occupy as much room as they wish. Even popstar James Morrison has stated that it's the best in the area.
3Taplow-Maidenhead Giant Car BootOpen from Sunday 22nd April, the Taplow-Maidenhead Giant Car Boot Sale is a well-established sale. As Berkshire/Buckinghamshire's busiest afternoon car boot sale, it's open on Sundays except bank holiday weekends when it's held opposite Taplow Station in Maidenhead on Mondays. Catering, mobile toilets and childrens rides available.
4Denham Giant Car Boot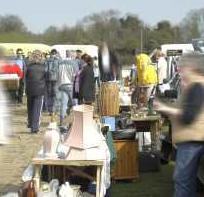 The 'biggest, busiest and best car boot west of London', which is some claim by the organisers of Denham Giant Car Boot. Located on the A40 not far from Junction 1 of the M40, this boot sale runs every Saturday. With mobile toilets, catering, and children's rides available, it's no wonder this car boot sale has become very popular.
5Cheltenham Racecourse Car BootHeld every Sunday from 9am until 1pm, the Cheltenham Racecourse Bootsale is located on a massive ten acres of hard standing, so sellers will never run out of space. Sellers pay on entry, there is no need to book. Catering also available.
6Pennant Car Boot SaleVoted one of the top car boot sales in Wales, the Pennant Car Boot Sale is now in its 26th year, having run around 850 weekly sales since their early days. Running at Gwynfryn Nurseries in Ceredigion, Wales, the organisers have promised to hold their prices for sellers this year.
7Tetsworth Car BootMammoth antiques, car boot and clearance sale at Tetsworth in Oxfordshire, just a short drive from Junction 6 on the M40.
8Wotton Monster Car Boot SaleA nice friendly car boot sale - sellers don't need to book in advance, and like the Brighton Racecourse boot sale they're allowed as much room as they like. Runs every Saturday from 7am - 1pm.
9Bottesford Giant Car Boot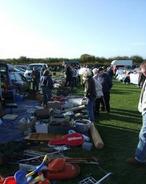 Located just off the A52 between Grantham and Nottingham is the Bottesford Giant Car Boot Sale, claiming to be the biggest, best and the friendliest in the area. Running every Sunday and Bank Holiday Mondays ten months of the year, it attracts thousands of bargain hunters each week.
10Polmadie Car Boot SaleAs Scotland's only fully undercover car boot sale, the Polmadie Car Boot Sale in Glasgow is well worth a visit if you want to snap up a bargain. Everything from fruit and vegetables to VCR's, bric-a-brac and CDs are available, as well as catering and a free public car park.