British tattoo conventions 2012 guide
FEATURE
---
Practiced since Neolithic times, and in many cultures and religions throughout the world, body tattooing has now become a part of mainstream fashion. We take a look at some of the best tattoo conventions taking place across the country, even though the practice is so widespread we can barely scratch the surface. Sorry, bad joke, but you get the idea.
---
---
A lot has changed since 'way back when', where tattoos were reserved for army men, convicts and gang members. A few decades have passed and now you only need a sunny day for the shorts and tank tops to come out to find that many Brits love their ink.
Whether you're dipping your toe in for the first time, running out of space already, prefer Japanese tattooing to new school or vice versa, here is BritEvents' guide for 2012's UK Tattoo Conventions to let you know when, where and what they're all about.
Brighton Tattoo Convention
Saturday 28th - Sunday 29th January
One of the best-loved tattoo shows in Europe, Brighton's Tattoo Convention comes to Brighton Racecourse.
Easily one of the most-loved tattoo conventions in Europe with a focus on new school, traditional, neo-traditional and portraiture/realism, Brighton's Tattoo Convention comes round once more to the Brighton Racecourse.
The confirmed artists are some of the World's most talented and will all be under the same roof for the weekend and to end the show with a bang there will be an after-party with free entry to wristband holders.
Confirmed artists - Boff Konkers, Ruud Waterzooi, Ade Tatu, Ruby De Amicis, Hazel Nicholls, Shane O Neill, Tiny Miss Becca, the Jolie Rouge team, Guen Douglas, Rachel McCarthy, Xoil, Luca Ortis, Miss Arianna, Leah Moule and Sofie Simpson, Bez Triple Six and Eckel.
Ticket prices: 20 per day, 35 for a weekend pass.
The Tattoo Tea Party
Saturday 3rd - Sunday 4th March
150 confirmed artists at Manchester's Tattoo Tea Party on the 3rd-4th March 2012.
The Tattoo Tea Party is a brand new show hosted at Event City in Manchester and is sure to be a show with a difference. With 150 confirmed tattoo artists, live entertainment, a tattoo museum, fairground, car & bike show, art classes and even a public boxing ring, The Tattoo Tea Party celebrates everything that is amazing about the tattoo scene in the UK.
Just a few of the confirmed artists - Lawrence Ah Ching, Tommy TTT Tattoos, Jo 'Lady' Talbot, Daz Crane, Carl Zambra, The Cock A Snook Tattoo team, Pinky Darling, Mat Lapping and Andy Walker, Tem Sosa, Danny Dygas, Lianne Moule, Matt Oddboy Barrett, Remis, Leah Moule, Mark B, Jonik and Guy Tinsley.
Ticket prices: 15 per day, 25.00 weekend pass.
Scottish Tattoo Convention
Saturday 31st March - Sunday 1st April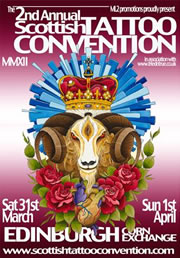 After a successful launch year in 2011, the Scottish Tattoo Convention returns to showcase the best tattooing skills.
In its second year, hosted in the historic Corn Exchange is Scotland's only annual tattoo convention and was a roaring success last year.
Along with the amazingly talented artists showcasing their fantastic tattooing skills and plenty of alternative shopping, the convention promises live entertainment from bands including Johnny Lee Memphis and Union Avenue and saucy burlesque performers strutting their stuff on stage.
Confirmed artists - Joe Ellis, Shaun Bailey and Adrian Machete of Cock A Snook Tattoo, Martin Couley, Gray Silva, Cecil Porter, the infamous Xam, Harry Morgan from Melbourne, Charlotte Patterson, Gre Hale and Danny Rossiter of Mutiny Tattoo co., Jeremy Justice all the way from Seattle, USA.
Tickets 20 for a single day, 30 for the weekend.
The Great British Tattoo Show
Saturday 21st - Sunday 22nd April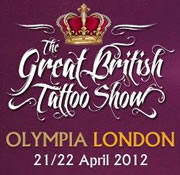 Olympia's National Hall will be divided into three areas for The Great British Tattoo Show, 21-22 April 2012.
A brand new show with an unique format, The Great British Tattoo has segregated Olympia's National Hall in London into three parts;
The traditional area - old school, new school and oriental tattooing with pin up and burlesque fashion vendors and swing/rockabilly music playing
The contemporary area - horror, portraiture and realism tattooing with rocker fashion stalls and rock/metal music playing
The urban area - graffiti, cartoon, stylised and tribal tattooing with street-wear stalls and hip hop music playing
The Great British Tattoo show is the first of its kind to section tattoo culture in this way to make it easier for tattoo lovers to navigate around the show easily.
Confirmed artists so far with many more to be announced: Gary Stanley, Lenko, Maris, Natascha, Patrick Huttlinger, Tattoo Frank, Mat Lapping, Andy Walker and Steve Hartnoll.
Tickets - 22.00 for the day, 45.00 for the weekend with a limited edition t-shirt.
Northampton's International Tattoo Convention
Saturday 19th - Sunday 20th May
A circus theme will be used for this year's Northampton International Tattoo Convention. Don't miss the Wall of Death bike show.
This year's Northampton International Tattoo Convention is based around a circus theme with awards for the best dressed, the daring wall of death bike show, good old fashioned wrestling, wood carving, owl shows, poi and other unusual circus acts.
There's already fantastic line up of extremely talented tattooists confirmed so far with more to be announced in coming months.
Confirmed artists so far - Bob Tyrell, Benjamin Moss, Dan Gold, John Anderton from Nemesis Tattoo, Nikole Lowe, Matt Boba Fett Sharp.
Tickets - 10 advanced tickets per day, 15 for the weekend. Tickets may be available to purchase on the door at 15 per day.
The International London Tattoo Convention
Friday 28th - Sunday 30th September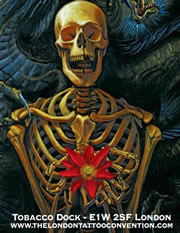 One of the most prominent tattoo events of the calendar, this year's event takes place at London's Tobacco Dock, a short stroll from Tower Bridge.
Another big name in the tattoo world; the London Tattoo Convention. Covered by TV news programs and newspapers, this convention was amongst one of the most prominent events of the entire London cultural season - quite a contrast from just a few decades ago when supposedly only servicemen and convicts had tattoos!
Held at the Tobacco Dock in London, just a stone's throw from the Tower Bridge, the convention is in a perfect location and easily accessible for both British and international tattoo fans. The artist list is unannounced at present but artists will be confirmed in the coming months.
Last year's artist list was amazing with numerous international artists, providing a great chance to get inked by your favourite tattooists without paying and arm and leg for travel!
Ticket prices to be confirmed.
Tattoo Jam
Friday 12th - Sunday 14th October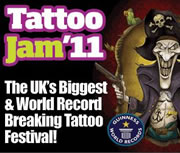 A mecca for tattoo lovers, Tattoo Jam this year is held at Doncaster Racecourse, featuring 300 tattoo artists.
The UK's biggest tattoo festival is the most anticipated of them all and is essentially Britain's Mecca for tattoo lovers. Held at the Doncaster Racecourse with 300 tattoo artists, plenty of live music, seminars and shopping, year after year Tattoo Jam never fails to deliver!
At present, artists have yet to be confirmed, but if last year's list is anything to go by, it is sure to be an event to remember.
Last year's ticket prices (subject to change in 2012) - 40.00 weekend pass, 25 for a single day on the door.
---
---