London's blue plaques
FEATURE
---
Feature article by BritEvents.
Comments
---
Share this feature
---
Many well known people have lived in London, and many of their former homes are indicated by a distinctive blue plaque, displayed on the outside of the house they once occupied or were born in. BritEvents reveals a little history behind these interesting blue plaques.
---
---
Over the centuries, many famous people have called London home, ranging from writers and artists, to scientists and inventors.
If you have visited London and have happened to glance up, you may have noticed a blue plaque on the wall, informing you that somebody famous once lived, or was born, in that house or at that address.
There are over 800 of these plaques all over the city, commemorating such famous residents as Charles Dickens, Samuel Pepys, and Vincent van Gogh, although they are particularly concentrated in the West End, Chelsea and Kensington.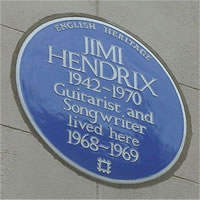 Blue plaque to commemorate Jimi Hendrix at his house at 23 Brook Street, London.
It can be fun trying to spot the plaques as you wander around, and many visitors to the capital make a point of seeking out the one time home of their favorite London resident.
The first plaque was erected in 1867, commemorating the poet Byron, after a suggestion made by William Ewart, a Member of Parliament several years earlier. That first plaque did not survive, and the oldest surviving one is in St. James andcommemorates Napoleon III.
The early plaques underwent several different designs, and not all of them were blue; in fact, they were originally known as 'Indications of Houses of Historical Interest in London'. The distinctive design that is familiar today dates from the Second World War, and blue was chosen as it was considered to be most visible against the gray, white and brown of London's buildings.
Since 1986, the scheme has been overseen by English Heritage, whose rules for inclusion still follow the original guidelines. The person being commemorated must have been dead for at least 20 years, or the centenary of their birth must have passed.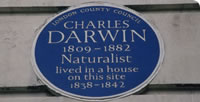 A blue plaque on one of Darwin's London homes at Upper Gower Street in London Robert Siegel Md, PhD, Standford University
The owners of the building also have to grant permission to have a plaque on their wall, although for homeowners, there is a certain prestige in having a blue plaque on the front wall and it is an undeniable bonus for anyone selling their house.
Although most plaques are for historical figures, there are some notable exceptions. On the wall of 221B Baker Street, a plaque indicates that the consulting detective Sherlock Holmes lived there from 1881 until 1904.
There are also several plaques commemorating the well known character of Dr. Who, star of a long running television show. Blue plaques also commemorate prominent organisations and societies, including the League of Nations, the English National Opera and the National Trust.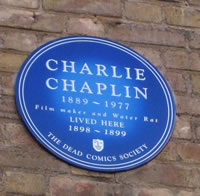 The childhood home of Charlie Chaplin in 287 Kennington Road, London, SE 11.
Although the majority of the plaques commemorate famous British people, those from overseas are also represented. Around 20 prominent Americans have their own blue plaque, including Mark Twain, Henry James, Benjamin Franklin, and the inventor of Morse code, Samuel Morse. Businessman and retailer Harry Selfridge, whose famous store is located in Oxford Street, has a plaque on the wall of his one time home in Mayfair.
In the same neighborhood, the 1960s rock legend Jimi Hendrix has his own plaque on a house in Brook Street,next door to where the English composer Handel lived, albeit acouple of centuries earlier.
In addition to the official plaques, which are under the responsibility of English Heritage, there are various other plaques and markers that have been erected by local councils and specialist groups.
In particular, Comic Heritage has erected plaques at the former address of many famous British comedians, including Benny Hill and Peter Sellers. However, perhaps the most intriguing plaque is a fake one in a suburban north London street commemorating the supposed inventor of the supermarket cart, Carswell Prentice.
For more information about the historic Blue Plaques, visit the English Heritage website at http://www.english-heritage.org.uk/discover/blue-plaques/, which outlines the history of the London-wide blue plaques, the design, and further guidance for anyone interested in putting up a plaque.
---
---