FANTA'S TWISTED CARNIVAL: NEW IMMERSIVE HALLOWEEN ATTRACTION TOURING COUNTRY
NEWS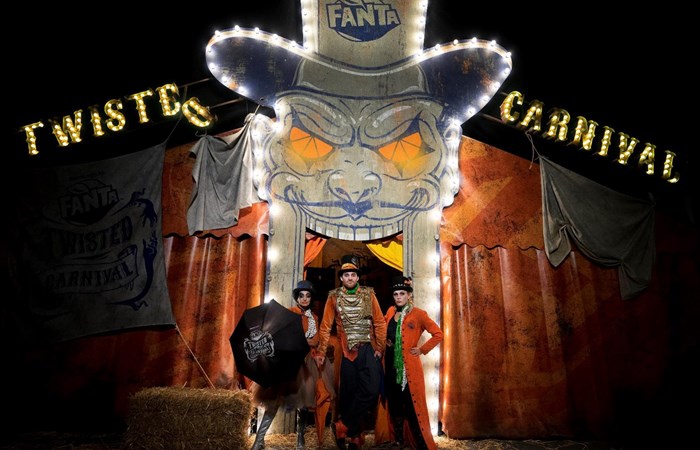 • Fanta's spooky new immersive attraction, Twisted Carnival, touring country this October • Ghoul unleashed on the public to test reactions ahead of launch of the attraction • Carnival coincides with the launch of Fanta's two new Spooktacular flavours, Blood Orange Zero and Pink Grapefruit Zero • The thrilling experience will tour the country in the run up to Halloween, appearing at Thorpe Park, Liverpool One, Westfield London, Birmingham's Bullring & Grand Central
---
---
Fantas spooky new immersive attraction, Twisted Carnival, touring country this October
Ghoul unleashed on the public to test reactions ahead of launch of the attraction
Carnival coincides with the launch of Fantas two new Spooktacular flavours, Blood Orange Zero and Pink Grapefruit Zero
The thrilling experience will tour the country in the run up to Halloween, appearing at Thorpe Park, Liverpool One, Westfield London, Birminghams Bullring & Grand Central
A spooky new immersive attraction, Twisted Carnival, is touring the country this Halloween, appearing at Thorpe Park, Westfield London, Liverpool One and Birminghams Bullring & Grand Central.
Visitors brave enough to enter the carnival will be get to explore the carnivals thrilling exhibits, each full of frights and delights.
The thrilling experience created by Fanta will be hosted by spooky characters showing visitors around its eerie exhibits. Whatever you do, dont peek behind the curtain, for unrivalled scares await you there.
Rosalind Brown, Marketing Manager at Fanta GB said: Were so excited to be taking our Twisted Carnival to Thorpe Park. Our ghoul certainly passed the fright test as she greeted commuters this week, but that was just a taster of what the carnival has in store. Shes one of many thrilling characters and experiences at the attraction, which will cross between the physical and virtual world to create a one-of-a-kind immersive, spooky experience.
Halloween is an exciting time of year, so we want to bring a thrilling new experience to those celebrating!
The Carnival comes as Fanta releases two new Spooktacular flavours, Blood Orange Zero and Pink Grapefruit Zero, which will be the joining the brands portfolio for Halloween.
Renowned artist Noma Bar has given the new flavours a Halloween twist, transforming the Fanta bottles and cans with unique ghoulish graphics. His designs will also be featured on packs of Fanta Orange, Orange Zero, Fruit Twist, Fruit Twist Zero and Fanta Lemon.
Fantas Twisted Carnival will be touring the country this Halloween. For further information visit fanta.co.uk/Halloween
- Ends
NOTES TO EDITORS
Fantas Twisted Carnival will appear at:
6th-7th October and 13th - 14th October: Thorpe Park, Chertsey
18th - 23rd October: Westfield, Shepherds Bush, London
27th 31st October: Bullring, Birmingham
3rd - 4th November: Liverpool One
For more information, please contact:
Kate Bailey, Taylor Herring
kate.bailey@taylorherring.com / 0208 206 5151
About Coca-Cola Great Britain:
Coca-Cola Great Britain is responsible for marketing 20 brands and over 80 products to consumers across Great Britain. Led by Coca-Cola, one of the world's most valuable and recognisable brands, our company portfolio includes Fanta, Sprite, Dr Pepper, Oasis, glaceau vitaminwater, glaceau smartwater, Schweppes, Appletiser and Honest. All of the packaging Coca-Cola Great Britain uses is 100% recyclable and the company is committed to double the recycled plastic in all of our bottles to 50% by 2020 and will source all of this extra recycled material from within the UK.
About the author
Taylor Herring
---
---