Holly Stoppit announces her new Mindful Play season
NEWS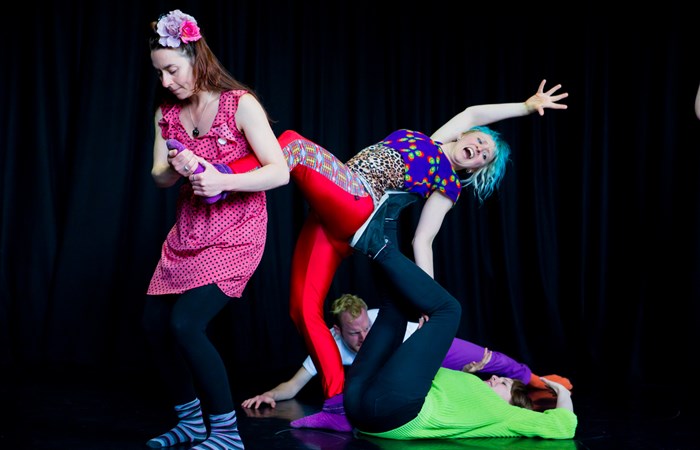 Renowned clown teacher & dramatherapist Holly Stoppit will be running a series of Mindful Play sessions, exploring play & its benefits. Think mini TED-talk followed by playtime for grown ups & you're on the right lines.
---
---
Held fortnightly on a Tuesday evening at the Unitarian Chapel in St Pauls, the 4 Mindful Play sessions, each lasting 2 1/2 hours, are individually-themed into Play, Flow, Spontaneity and Connection.
Content:
- playfully-delivered mini TED-style talk from Holly
- short mindfulness meditation
- playtime exploring the week's theme through games & exercises
- guided reflection to explore your discoveries & pearls of wisdom.
Holly says I take enormous pleasure in holding space for grown-ups to explore and improve their relationship with play. In my book*, being able to easily access the state of play is a ticket to freedom, acceptance, joy and connection.
Each session is unique and self-contained, so you can attend as many as you like. However there is a generous discount for booking all 4 in advance.
Prices: 15 (10) per session or 50 (30) for all 4.
Dates:- Play - 13th February
- Flow - 27th February
- Spontaneity - 13th March
- Connection - 27th March.
More info: www.hollystoppit.com/workshops/mindful-play-sessions or
www.facebook.com/events/289725091553676/
Tickets from: www.brownpapertickets.com/event/3231604
* Hollys Book: Holly is writing a book and will be using these sessions to add to her growing research into play and performance, and their benefits and barriers.
Notes for editors
Holly Stoppit is available for interview. For high res photos or more info contact info@hollystoppit.com
About Holly
Holly Stoppit is a facilitator, performance skills teacher, theatre director and dramatherapist, specialising in creating live, playful, interactive, improvised and devised performance.
Hollys vast portfolio of creative roles includes
- devising & delivering unique performance skills / self-development training courses under the brand of Holly Stoppit Workshops
- artistic director of Beyond The Ridiculous, an improvisational theatre company featuring former students
- freelance facilitator / director / creative consultant offering bespoke services for professional theatre companies, community organisations, universities, businesses and individual artists.
At the heart of all of Hollys work is a desire to promote creative discovery & connection through play.
Holly Stoppits Introduction to Clowning
This 2-day foundation course is the gateway to all other Holly Stoppit Workshops courses and is ideal for performers and non-performers alike. It explores playfulness, the state of clown and introduces you to Holly Stoppits world. If you like it there theres plenty more training to be had afterwards, in the form of 5-day intensives and weekly courses. (Mindful Play sessions are unusual in that they do not require prior attendance at an Introduction course).
Next Introduction weekends 24 & 25 February 24 and 25 March 28 and 29 April.
These courses are limited to 12 people and always book up quickly. Read more about Introduction To Clowning here.
Biog
Holly grew up on the road with her familys circus-theatre company, Arts Play Umbrella, performing and delivering circus-theatre workshops all around the UK.
For over two decades, she performed as a clown-musician in circus, street theatre, cabaret, rural touring, schools and theatres with amazing outfits including Nofit State Circus, The Honk Project, Oily Cart, The Invisible Circus, Ramshacklicious (the street theatre company she co-founded with her brother, Jack) and her show-band, Yupknuckle.
Holly began freelancing as a director of devised performance in her 20s. Soon after that she was teaching adult clown classes to people from all walks of life, from performers to politicians. In 2010, Holly's deep fascination for the transformational potential of creative process led her to study for an MA in Dramatherapy. Now she combines her skills to playfully nurture clowns and fools in all manner of ways.
About the author
Workshops: info@hollystoppit.com All other enquiries: holly@hollystoppit.com Website: www.hollystoppit.com Facebook: hollystoppitworkshops
---
---