Legendary Drummer, Ralph Rolle, brings his masterclass to London
NEWS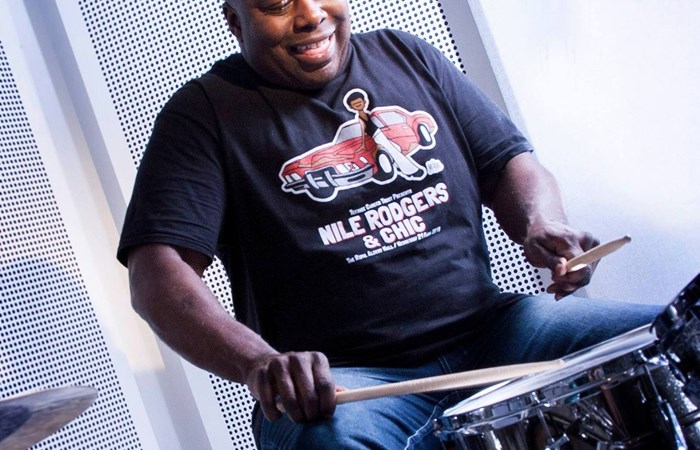 Legendary Drummer, Ralph Rolle of Chic, brings his masterclass to New River Studios, London on October 20th at 3pm.
---
---
Ralph Rolle, best known as the drummer with Nile Rodgers and Chic, will bring his Masterclass How to Get and Keep A Gig to London on Sunday October 20th at 3pm in New River Studios, North London.
During the masterclass, the legendary drummer and powerhouse behind Nile Rodgers, will share his exceptional drumming skills, lots of anecdotes from his 40 year professional music career and give lots of insider secrets on how to get your foot in the door of your chosen career path. Not only is Ralph an exceptional drummer and vocalist, hes also an entrepreneur with a cookie company and Soul Food Restaurant. Ralph has already brought his masterclass to Tokyo, Dublin, Berlin, Manchester and New York and it has received critical acclaim from both professional and student musicians, producers and other creatives.
Ralph is a drummer from The Bronx, New York (Bronx River Projects, home of Hip Hop, Afrika Bambaataa was his neighbour). As far back as he can remember hes marched to the beat of a different drum. He has been playing professionally since the age of 18 and it is no surprise that with more than four decades of professional experience, within the music industry, he enjoys an illustrious career as a much sought after drummer, producer and clinician.
His performance and recording list include Nile Rodgers and Chic (for which he is best known and for whom he currently plays), Sting, Bono, Bette Midler, Paul Simon, Aretha Franklin, Queen Latifah, Slash, Eric Benet, Erykah Badu, Toshinobu Kubota, D'Angelo, John Legend, Paul Simon, India Arie, Elvis Costello, Smokie Robinson, Slash, Mickey Dolenz, Gwen Stefani and many more. Ralph recently performed on the Elton John Biopic Rocketman.
Ralph also appeared in the David Bowie Tribute in the 58th Annual Grammy Awards in 2016. He recently played a stunning set with Chic, at Glastonbury Festival, wowing over 220,000 attendees with his performance of Lets Dance. Chic have just played both weekends of the Coachella Festival in California, after completing a tour of Australia and New Zealand.
Ralph is a highly accomplished baker and in 1996 he established The Soul Snacks Cookies Company in the Bronx in New York. Soul Snacks Cookie Company offers a variety of delicious cookies, all using recipes that have been in Ralphs family for over three generations. When not playing with Chic, Ralph can be found in the bakery at 5.30am, working with his team of bakers, all of whom are from the local community. Fans of the cookies include Jennifer Lopez, Whoopi Goldberg and Prince Albert of Monaco and Tim Burgess, lead singer of indie band, The Charlatans, calls them the best cookies in the world.
N.Y.U invited Ralph to be guest speaker to classes of graduating students where he utilised his lesser known talent as a motivational speaker. The drum clinics that he delivers are sessions in music and life, which attract not only drummers but all types of musicians, singers and those who are interested growing in a positive way. For 14 seasons, he was the Drummer for NBC's It's Showtime at The Apollo" with and he has also played on "The David Letterman Show.
Tickets for Ralphs masterclass are on sale now on Eventbrite.co.uk
www.ralphrolle.com
www.soulsnacksnyc.com
Ends
Media Enquires and interview opportunities anne@therealmccoypr.com
About the author
Anne McCoy The Real McCoy PR 00353 868402373
---
---