Aris Greek Restaurant Restaurant
55 Eastwoodmains Road, Glasgow, Lanarkshire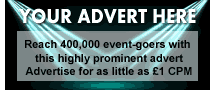 Welcome to Aris Greek Restaurant Greek restaurant page in Glasgow, Lanarkshire. For information about our menu, opening times, to book a takeaway/delivery (if available) or to book a table at Aris Greek Restaurant restaurant, please phone the main telephone number on 0141-638 8422.
Hungry? Order online at 20,000+ delivery takeaways and restaurants across the country.
It's a quick, easy and hassle-free way to order your delicious takeaway food direct to your front door.
Check out our full list of restaurants in Glasgow, or see a list of other restaurants that are close to Aris Greek Restaurant in Glasgow below.
Rating
How to find us
Aris Greek Restaurant
55 Eastwoodmains Road
Glasgow
Lanarkshire
G46 6PW
Phone: 0141-638 8422
Restaurant Map
Use the map below to plan your journey to Aris Greek Restaurant by car or public transport.
Your comments
Add your comment
Like us on Facebook
BritEvents Features
Tweets by @britevents
Case Else %>
BritEvents Features
Like us on Facebook