York Barbican Centre
Traffic Updates
Avoid the traffic jams when travelling to York Barbican Centre with our traffic report, giving you the latest conditions on the local motorways and roads.
---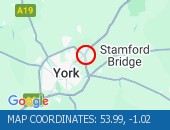 A64 (Southbound)
A64 southbound between B1248 near Norton-on-Derwent (west) and A1237 near York (north) | Southbound | Roadworks
On the A64 southbound between the junctions with the A169 and the A1237 York North, minor delays can be expected at peak times due to roadworks , between 8 pm and 6 am, from 30 July 2014 to 31 July 2014.
4.2 miles away | Reported 31/07/2014 00:10:09 | More information
---
Traffic news report for the York Barbican Centre is provided by our sister website, www.Traffic-Update.co.uk, which provides up-to-the-minute reports for traffic conditions on UK roads, highways and motorways.