Car Boot Sale
Paignton, Devon
Event Details
Open:

8am until finish

Admission:

£N/a

Category:

Venue:

Address:

OLD NORTEL SITE
Old Nortel Site Off Brixham Road, Paignton
Paignton
Devon
TQ47BE

Phone:
Added by
melissa cox

Viewed: 3714 times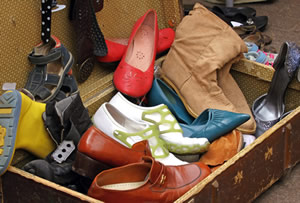 Car boot every Saturday & Sunday
Sellers from 8am
Buyers from 10am
Old Nortel Site off Brixham Road Paignton
Toilets & refreshments available
Plenty of Free car parking for buyers
Start time
8am until finish
Address
Old Nortel Site, Old Nortel Site Off Brixham Road, Paignton, Paignton, TQ47BE
---
Disclaimer: This event is not organised by BritEvents, and we cannot be held responsible for the accuracy of the information provided, errors, or omissions. Always check the information provided before you book tickets.
What's on
Sorry, we don't have any details of events taking place at Old Nortel Site.
Your comments
Add your comment
Getting there
Traffic Updates
Other Events Nearby
Festive Feasts

Celebrate Christmas in true style, with the exclusive opportunity to have a two course Christmas lunch in the fabulous setting of the Greenway house kitchen. With delicious food, enjoyed in the heart of Agatha Christie's…

13 - 21 Dec 2013GreenwayGalmptonLifestyle2.2 miles away

---

Aladdin

Academy Productions presents 'Aladdin'. Will Aladdin steal the lamp from The Magic Mountain for Abanazer. What happens when Aladdin rubs the lamp? Will love conquer all and will Aladdin marry Princess Jasmine? Join…

17 Dec 2013Babbacombe TheatreTorquayTheatre & Performing Arts5.3 miles away

---

Christmas Break

Whether you live locally, or would like a change of scene for the Christmas period, Buckland Tout-Saints Hotel, Devon, is the ideal location for a bespoke Christmas break in the UK. The idyllic setting of the luxury coun…

23 - 26 Dec 2013Buckland Tout Saints HotelKingsbridgeLifestyle10.6 miles away

---

New Year Break

New Year's Eve ~ Tuesday 31st December Arrive at your leisure and relax and unwind in your room, or stroll the hotel's grounds and beautiful countryside beyond, before getting ready for this evening's revelry. Begi…

31 Dec - 2 Jan 2014Buckland Tout Saints HotelKingsbridgeLifestyle10.6 miles away

---

Open Auditions for William Shakespeare's Romeo and Juliet

Open auditions for William Shakespeares Romeo and Juliet directed by Laura J, the director of our recent production of Les Miserables. Auditions for the above show will be held at Chestnut Community Centre, 1-3 Poplar C…

22 Jan 2014Chestnut heights community centreBrixhamTheatre & Performing Arts3.2 miles away

---

Chris Crudelli 'simple' Tachi and Qigong Course 2014

Sifu Chris Crudelli's Tai Chi and Qigong 6 day Intensive Instructor course. Module 1 -2nd February-Saturday 8th Feb 2014 - Devon,UK Using Sifu Chris Crudelli's unique 'Simple Tai Chi' learning method Ta…

2 - 8 Feb 2014Drurys Martial ArtsDawlishSports12.6 miles away

---

A Comedy and Variety Night Fundraiser

Get yourself a ticket to one of the hottest shows in the Bay for an exciting evening of entertainment whilst you contribute to a marvelous cause the Torbay Holiday Helpers Network . All proceeds raised on the night will…

21 Feb 2014Babbacombe TheatreTorquayTheatre & Performing Arts5.3 miles away

---

Ultimate Elton and the Rocket Band

Some tribute artists' look like their idol, some sound like their idol. Paul Bacon as Sir Elton John does both! Close your eyes and you won't believe your ears, open your eyes and you won't believe them either! You simpl…

8 Mar 2014Babbacombe TheatreTorquayMusic/Gigs/Concerts5.3 miles away

---

Alison Moyet

Alison Moyet performs live at Princess Theatre Torquay in Torquay, Devon on Monday, 31 March 2014. Buy and compare your tickets for Alison Moyet at Princess Theatre Torquay now.…

31 Mar 2014Princess Theatre TorquayTorquayMiscellaneous3.9 miles away

---
For a full list of forthcoming events in Devon, as well as local attractions, days out, theatre, visual arts and sport, visit our what's on Paignton page.
Advertisement
Like us on Facebook
Advertisements