Re Use It Car Boot Sale
Skipton, Yorkshire
Event Details
Open:

8am/4pm

Admission:

£N/a

Category:

Venue:

Website:

Address:

SKIPTON AUCTION MART
Gargrave Road, Skipton
Skipton
Yorkshire
BD231UD

Phone:
Added by
Gene Hoyle

Viewed: 6710 times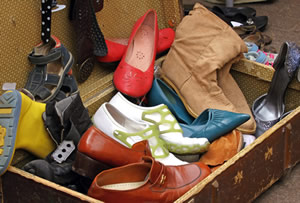 Fantastic facilities 100s of spaces available, same price to sell indoor or out . Open first Sunday every month.
For more information about Re Use It Car Boot Sale, please contact , or see event details above.
---
Been to Re Use It Car Boot Sale? Add your review or read other Re Use It Car Boot Sale reviews.
---
Disclaimer: This event is not organised by BritEvents, and we cannot be held responsible for the accuracy of the information provided, errors, or omissions. Always check the information provided before you book tickets.
What's on
Sorry, we don't have any details of events taking place at Skipton Auction Mart.
Your comments
Add your comment
Getting there
Traffic Updates
There are no road or motorway traffic alerts/news for the area.
View all Traffic news
Other Events Nearby
Draks Drum Live

Draks Drum are an original acoustic-rock band from Colne, Lancashire with punk and progressive rock influences. Draks Drum are playing live at The Queens, Colne BB8 8DY on Bank Holiday Monday 27th May. The set will be…

27 May 2013The Queens (Colne)ColneMusic/Gigs/Concerts9.6 miles away

---

Nevilles Island

A testosterone driven comedy about a group of businessmen who find themselves marooned on an island and try to come to terms with each other's irritating little foibles. As civilised behaviour evaporates and the layer…

10 - 15 Jun 2013Keighley PlayhouseKeighleyTheatre & Performing Arts8.4 miles away

---

Counterfeit Sixties Show

Re-live the sounds of the swinging sixties, as Britain's No. 1 tribute show brings alive the magic of the sixties, with their tribute to over twenty five bands of that era. The show encompasses everything from that perio…

21 Jun 2013Burnley MechanicsBurnleyMusic/Gigs/Concerts14.7 miles away

---

NSPCC North Hack (hike Against Cruelty to Kids)

There are two routes through the hills, mills and valleys of Calderdale to choose from, both starting from the Moorlands Inn, Keighley Road, Ogden, Halifax, HX2 8XD 22 mile challenge walk | Registration: £20 …

6 Jul 2013Moorlands InnHalifaxSports14.5 miles away

---

Broughton Hall Fireworks Champions

Firework Champions: Broughton Hall - 4 great firework displays! 3 of the UK's best firework companies compete against each other with a 10 minute firework display choreographed to music followed by a finale display from …

27 Jul 2013Broughton HallSkiptonFamily Days Out2.1 miles away

---

Firework Champions 2013 Broughton Hall

Set in the beautiful surroundings of Broughton Hall. 3 of the UK's leading firework companies compete against each other with a 10 minute firework display choreographed to music for your enjoyment. Closing display by the…

27 Jul 2013Broughton HallSkiptonFamily Days Out2.1 miles away

---

Burley Classic Vehicle Show 2013

A chance to see a superb display of Classic, Vintage & Veteran Vehicles, with the emphasis on locally owned ones. Last year we had over 300 - cars, commercials, vans, buses, tractors, military vehicles, traction engines,…

18 Aug 2013Burley In Wharfedale Cricket ClubBurley In WharfedaleFamily Days Out12.3 miles away

---

Bingley Music Live 2013

Line-up: The Fratellis, Lucy Spraggan, Charlie Brown, The Lake Poets, The Temperance Movement, and The Loveable Rogues, are the latest acts to join Primal Scream, The Cribs, The Wonder Stuff, Natasha Haws, Rose and the …

30 Aug - 1 Sep 2013Myrtle ParkBingleyMusic/Gigs/Concerts11.5 miles away

---
For a full list of forthcoming events in Yorkshire, as well as local attractions, days out, theatre, visual arts and sport, visit our what's on Skipton page.
Related news
BritEvents on Twitter
Advertisements