A Day Out on the Circle Line
FEATURE
---
Planning a fun day out around a tube line isn't normally near the top of the list of things that people consider when planning a sightseeing trip in London, but you'd be surprised how much you can enjoy.
---
---
Ask any London Underground commuter whether they'd do this and they'd look at you like you're a bit mad. However, you'd be very surprised at the fun you can have on The Tube - those commuters who'd scorn you for being silly would themselves struggle to find a better day out - they just don't know it. They're the ones that are really missing out, so keep it to yourself.
If you really want to take in the sights and sounds of our capital city then get yourself on the Circle Line on our London's iconic Underground. If you've got kids you'll know that the idea of travelling by tube is fun enough, and it'll be an experience in itself. Allow AT LEAST a full day to get around our Circle Line itinerary below. You'll need it.
Remember to avoid the circle line at rush hour - especially between 8-9am and 4.30-6pm as the tube will be overcrowded, hot, and tempers can easily fray, especially if you've got kids in tow.
Although most of the attractions will be a whistlestop visit, you may want to consider spending some extra time at one or two of them so it won't feel as though you're rushed off your feet. Also remember to make time to stop for a coffee, beer and a bite to eat to allow you to put your feet up for a while. There's a lot to see around the Circle Line so you don't want to overdo it and feel exhausted.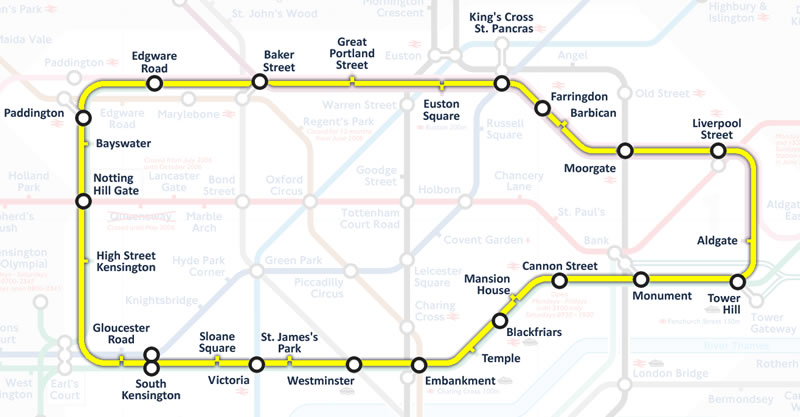 Circle Line Itinerary
OK, so you're ready to go. You've got a light bag or rucksack for the essentials - tissues, spare mobile phone battery, cash, Travelcard, that sort of thing. Off we go.
1. Tower Hill
A great place to start your tour of the Circle Line is Tower Hill, right next to the Tower of London. This is one of London's highlights, so you may want to consider spending some time here before you start your tube journey. Alternatively, just go and have a look. You can get up close to its walls and get some fantastic photos to boot. While you're there you might as well head to Tower Bridge, just a short stroll away, where you can also take some spectacular photos for your London scrapbook.
HMS Belfast is also just across the river (around 4 or 5 minutes walk), which also provides some great photo opportunities. This is the Royal Navy's last survivig cruiser, and the largest preserved warship in Europe.
2. Monument
If you're feeling full of energy then The Monument (at Monument Tube Station - of course) is a great place to burn some calories, but don't overdo it if you're not up to it - remember you have the whole day ahead. With 311 steps to climb you'll find yourself at the top of The Monument, 202 feet up. There's a superb enclosed observation deck at the top, giving you spectacular views over London. A snippet of history - the column is 202 feet tall because that's the distance to the bakery on Pudding Lane that started The Great Fire of London in 1666, which devastated much of the city.
3. Embankment
This tube stop is probably the best location to enjoy the spectacular River Thames. As the second longest river in the UK (after the River Severn), the river flows almost the width of England, running from Gloucestershire, taking in Oxford, Henley, Windsor and Gravesend.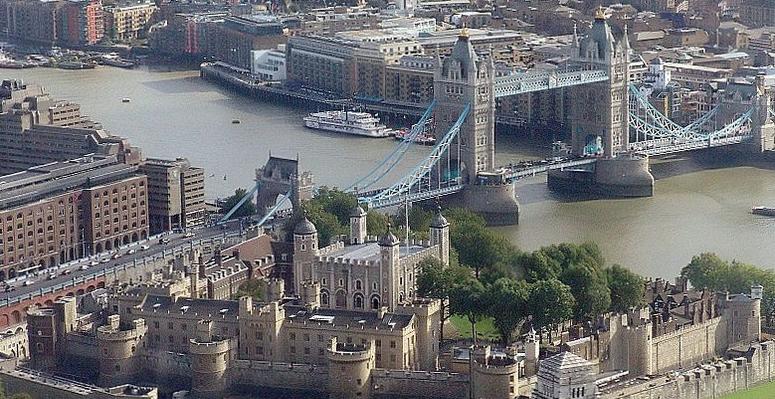 Cross over the river at Embankment and make your way to one of London's most awe-inspiring structures - The London Eye. Built to celebrate the arrival of the new centure, it's now become a firm favourite with visitors to our shores. Standing an impressive 135 metres high, it gives 'riders' an unrivalled 360 degree view of the city, allowing you to take spectacular photographs of Big Ben, the Houses of Parliament, Canary Wharf and of course, the Thames river itself. However, queues can be lengthy, so we advise you to book your London Eye tickets in advance so that it doesn't impact your Circle Line tube tour.
Alternatively, head east along Strand for a hundred metres or so, then turn left and you'll reach Covent Garden, also a firm favourite. Located on the eastern edge of London's West End, it's now a popular destination for tourists. However, what we think you'll enjoy the most are the range of street entertainers and performers that occupy the pavements around the area. Entertainers have been performing in Covent Garden since 1662, when Samuel Pepys wrote about them in his diary.
Today, plenty of performers can be seen in various areas, including the North Hall, South Hall and West Piazza. You'll see them pretty much every day, except Christmas Day, when they're also putting their feet up. Shows last around 30 minutes and run throughout the day. Covent Garden is also a great place to stop for a nice pint, a cup of tea or a bite to eat.
Plenty of restaurants can be found in the area, but if you're feeling particularly flush you can always fork out at the simply amazing Savoy Grill just south of Strand and enjoy an elegant 1920's theme to accompany your perfectly-cooked steak.
4. Westminster
No visit to London can be complete without stopping off to see Big Ben and the Houses of Parliament. Although the official name is the Palace of Westminster, the Houses of Parliament were built in 1042 to be a royal residence under Edward the Confessor. It's now home to Parliament where it is used by the Commons and the Lords. The public can enter whilst Parliament is in session to watch live debates, although queues can be long.
Nevertheless, get your camera ready - you can't leave without the obligatory photo of Big Ben, Westminster Abbey and Horseguards Parade (a short stroll). What would people at home think!
Whilst your at Westminster, make your way North on foot along Whitehall, where you can peer through the railings at Downing Street, the official residence and office of our Prime Minister and their cohorts. Our leaders have been occupying these buildings since 1735, including some of the world's most important political leaders, such as Pitt the Younger, Benjamin Disraeli, Winston Churchill and Margaret Thatcher.
If you love Indian cuisine, then stop by at the Cinnamon Club on Great Smith Street, which has been highly recommended by publication London TimeOut.
5. St. James's Park
You can either get back on the Circle Line or exercise your legs by making your way to the next stop on the line, St James's Park.
Walk for 6 or 7 minutes to our most famous royal palace, Buckingham Palace, which is the official residence of Queen Elizabeth II. With an incredible 775 rooms, this magnificent building is also home to a large workforce of people who help the day-to-day activities and duties of our monarch and their family. Containing priceless works of art (The Royal Collection), it's a hugely important part of our culture and history.
On certain days of the year the doors to The State Rooms are opened to a select number of lucky visitors. You can find out more about visitor days at http://www.royalcollection.org.uk/default.asp?action=article&ID=30
6. Sloane Square
Once you've had your fill of royalty, get a feel for high society at Sloane Square, which sits next to the opulent districts of Knightsbridge, Kensington, Belgravia and Chelsea. A walk down Kings Road is a must, to soak up the fashion trends of the 1960's. This famous road was the centre for fashion in the punk and hippie eras, although today it's known for its high-class (and matching price tags) fashion. Ian Fleming's James Bond lived on this eponymous road, and was also the title of a song by Tom Petty and the Heartbreakers.
Thirsty yet? Stop off at the Boisdale, a Scottish-themed bar in Belgravia and experience a 15-year-old Glen Garioch, single cask Ardbeg or other rare whiskies. Live jazz will entertain you whilst you're sipping away at pure gold.
7. High Street Kensington
If your purses and wallets are still bulging after visiting Kings Road and Sloane Square, then hop off the tube at High Street Kensington. A major shopping street for the wealthy and well-to-do, you won't find any Pound Shops here, but you'll be able to marvel at the range of high-quality goods on sale at major department stores and retail chains. It's one of London's most popular shopping centres, although it's gradually being pushed out of favour by the character-less Westfield London in nearby Shepherd's Bush.
Nearby you'll also find Kensington Palace Gardens, which is the UK's highest value street. With an average house price index of £36,066,148 it's only for the super-rich, but well worth a look to gaze at what virtually all of us can't (and won't) afford. Well, we can all dream, can't we?
Don't miss a visit to the fabulous Royal Albert Hall, a major concert hall in South Kensington, famous for its yearly summer Proms concerts. Built in 1871, it's hosted some of the world's most famous artists from the world of pop, ballet, rock, sports and banquets. A Grade I listed building, the Royal Albert Hall welcomes visitors to browse around the building. It's worth stopping here for a bite to eat at its cafe and enjoy some lunchtime jazz.
Just around the corner, tucked away out of sight on the famous Queen's Gate Mews you'll find a good old traditional London pub - The Queen's Arms. It's a rare hidden gem, also known as 'The Nines': a reference to the Royal College of Music situated nearby, which houses 98 practice rooms. This pub is regarded as the ninety-ninth room!
8. Notting Hill Gate
Five to ten minutes on foot (depending on how tired you are by now) from Notting Hill Gate you'll find one of London's most attractive suburbs, Notting Hill. Home to Europe's largest street party (Notting Hill Carnival, which has been running since 1966) and Portobello Road Market, this trendy area of London was made famous in the hit movie of the same name, starring Julia Robers and Hugh Grant. It's a great place to browse the shops and market, and offers some fantastic places to eat and drink.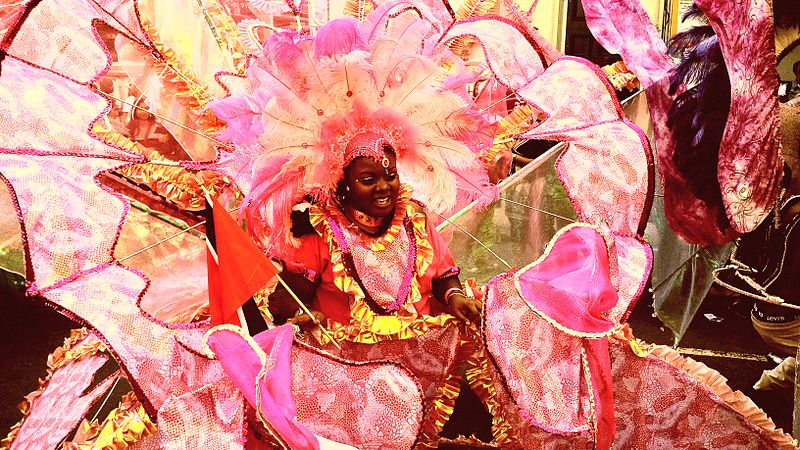 The Portobello Road antiques and flea market is held every Saturday, although there are a smaller amount of stalls open between Monday - Fridays. However, to make the most of it, visit it on a Saturday when you'll see a whole array of colourful and exotic stalls selling everything from fruit to fashions. A note of caution - it can get busy later on in the day.
9. Paddington
OK, after all that shopping and retail therapy it's time for a little bit of rest and relaxation. Jump off the tube at Paddington and head North up Westbourne Terrace for ten minutes on foot to Jason's Canal Boat Trip in Little Venice. A serene and picturesque location, Little Venice - as the name suggests - is interspersed with canals and waterways, and home to some fantastic restaurants and bars, and pretty little houseboats.
At Jason's Wharf (60 Blomfield Road, W9 2PD) you'll find Jason's Canal Boat Trip, giving visitors a welcome break from the hustle and bustle of the crowded city on a 45-minute tour around North West London in a 100-year-old canal boat named 'Jason'. The tour gives visitors a glimpse of London's heritage and industry past, as well as a fascinating insight into the townhouses of this part of the capital city.
10. Baker Street
By now you should be raring to go again with some more sightseeing, so Baker Street is the ideal stop for some more history and heritage. Named after builder William Baker who laid the street in the 18th Century, you'll no doubt be aware that this street is home to the fictional detective Sherlock Holmes, who lived at the (also fictional) 221b Baker Street. Other famous(ish) fictional residents have included Danger Mouse, Sherlock Hound and Basil the Great Mouse Detective. It was also the title name of the hit song of the same name by Gerry Rafferty in 1978.
If you want to immerse yourself in detective history, then pop along to The Sherlock Holmes Museum, found between 237 and 241 Baker Street. This museum shows exhibits in period rooms, as well as wax figures and Sherlock Holmes memorabilia.
Contemplate the mystery of Sherlock Holmes whilst enjoying a drink at Purl, just a stones throw away at 50 Blandford Street. It was launched as one of London's 'first speakeasy-type' bars, and has become very popular. Exquisite cocktails await, created with aroma, fog, air and foam. Or at least that's what their website claims.
11. Kings Cross
Kings Cross St Pancras station is the largest interchange station on the London Underground, and is a major stop for commuters. Although it can be very busy at times it's well worth stopping here as there are some local sights that really do belong on this list of things to see along the Circle Line. First up is the Charles Dickens Museum, dedicated to the life and works of the famous literary author.
Charles Dickens is a highly celebrated author in English culture, and is widely regarded as the greatest novelist of his period. Unusually for his time, he enjoyed unprecedented fame and popularity, with his 1836 publication The Pickwick Papers launching his career as a writer. Other novels followed, including David Copperfield, A Christmas Carol and A Tale of Two Cities, which remains the best selling novel of all time.
The museum, located on nearby Doughty Street (number 48), is the only remaining London home of Dickens, and contains the most important collections of his artefacts.
Also worth a visit is the British Library, which contains an astonishing 150 million items, amounting to a copy of every single publication that's been produced in the UK and Ireland. The building is the largest ever built in the UK in the 20th century. Guides are on hand to offer tours of this incredible library, probably the most important in the world.
A short walk will take you to the Canal Museum on New Wharf Road (N1 9RT), where you can learn all about the long history of London's canals which were incredibly important to transport goods in the 18th and 19th century. Touring the museum allows guests and visitors to experience life onboard a narrowboat, as well as learn about London's ice trade, imported from Norway in the 19th century.
Talking about something cold and wet, stop off at The Booking Office pub, located inside St. Pancras station. With a 29 metre long bar and contemporary design, it's a great way to take the weight off your feet for a moment and watch the world go by (or at least station passengers) whilst enjoying a lovely drink or two.
12. Liverpool Street
By now, you're heading back into the eastern side of the city directly into the financial district. Five minutes walk from Liverpool Street will take you to Tower 42, formerly known as NatWest Tower. This iconic building was the first skyscraper to be built in the City of London, and was officially opened by the Queen in 1981.
It was originally occupied by National Westminster Bank, hence the name, but today visitors can scale the dizzying heights of the 42nd floor, where you can enjoy a drink or a bite to eat (or even a glass of Champagne at Vertigo 42). Don't forget your camera - this visit provides some unrivalled panoramas of the capital city and surrounding areas.
Stop for a drink: The Mayor of Scaredy Cat Town, Spitalfields. Yep, you read that right. This dimly-lit cocktail bar lives up to its hype, and you can grab a bite to eat with sandwiches and platters available.
13. Aldgate
Heading out onto the edge of the financial district, hop off the tube at Aldgate, which was originally the eastern-most gateway through the London Wall, built by the Romans to protect it from invasion.
Here you can find the oldest synagogue in Britain, Bevis Marks Synagogue, built in 1701 for London's Portuguese and Spanish Jewish community. As the only synagogue in Europe that has held regular services continuously for over 300 years, it is an important and significant building.
Just around the corner we recommend a stroll along Brick Lane, London's very own 'Curry Mile'. Known by some as Banglatown, it started life as a centre for the manufacture of bricks and tiles in the 15th century. In the 20th century, Bangladeshis predominated the area. Historically, the East End of London was the first port of call for immigrants from Chittagong Port in Bengal, and over the decades the areas grew into the curry capital of the UK.
There's also a lot of culture to take in - enjoy bagel shops and Asian fashion stores too.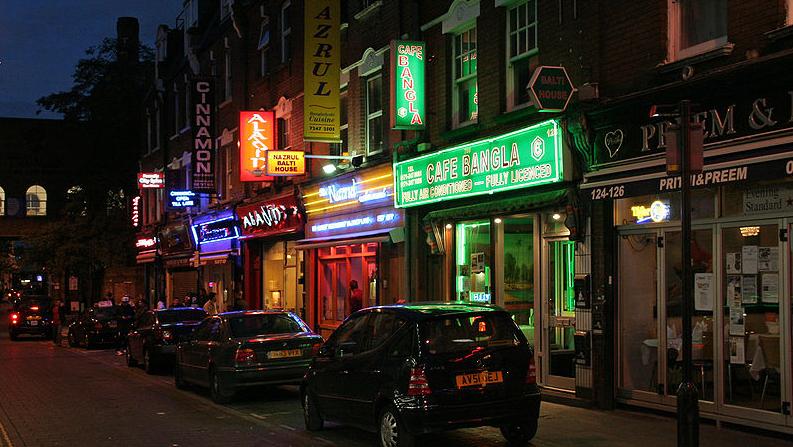 Don't miss a stop off at The Old Truman Brewery, housing a host of art and media-related businesses, as well as a fabulous place to stop and put your feet up to enjoy a glass of something alcoholic.
14. Tower Hill - Home
And back to your original station. Did you make it? Well done, if you managed to do all this in one day. At least by now you'll have a camera full of memorable photos, and you'll no doubt need to sit down and do something more chilled out for the next couple of days.
We hope you enjoyed your Circle Line tour. If you've got any other recommendations then feel free to add them below.
---
A little bit more about the Circle Line, so you can fully appreciate your tour.
The Circle Line was first built in 1863 after the Metropolitan Railway opened the first piece of line between Paddington and Farringdon, and the circle was complete in 1884. The line 'loops' around central London, passing through Kings Cross, London's square mile (the financial district), running parallel to the Thames River for a short while - running alongside The Houses of Parliament and Westminster, before it weaves through the posh areas of Chelsea and Kensington, and making its was back North through Notting Hill Gate, Paddington and back to Kings Cross again.
Photo Credits:

Tube Map: James D. Forrester

Tower of London: Matthias Kabel

Notting Hill Carnival: Romazur

Brick Lane: Tony Hisgett
---
---