The Chinese State Circus
FEATURE
---
It's been called the World's Greatest Acrobatic Spectacle, and it's just embarked on its UK premiere. Yin Yang, the exhilarating new performance from The Chinese State Circus, is back with more incredible acts of poise, power and talent. We sent BritEvents' Amanda Arnold to review the show, who was also lucky to catch up with director Phillip Gandey to find out more about this new extravaganza.
---
---

By Amanda Arnold
BritEvents Contributor
Delighted to be invited to review the sensational UK premiere of 'Yin Yang', our family of four travelled up to Manchester to witness the explosive and breathtaking extravaganza from the legendary Chinese State Circus.
With a fast-filling theatre at the Lowry in Manchester, the sense of anticipation building up from my 11 and 15 year old children took me by surprise. In a world of gadgetry, unless children have a PlayStation controller in their hands they seem reluctant to sit still and watch anything.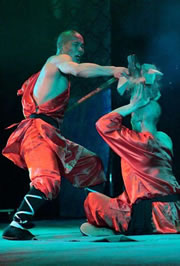 Spectacular. The most exhilarating circus it has ever been my privilege to see - London Evening Standard
After buying the glossy, eye catching souvenir brochure for the family, I was pleased to see my kids were genuinely looking forward to the show, and were taking in the bustling atmosphere of the auditorium.
My daughter, an avid ballet fan, was particularly looking forward to the Oriental Swan, and my son - not surprisingly - was on the edge of his seat waiting for the Shaolin Warriors.
Secretly, I was also looking forward to these two acts, and they didn't fail to impress.
I knew that this show as going to be good, as I had previously reviewed another Gandey World Class Production, the wonderfully weird Lady Boys of Bangkok 'Fur Coat and French Knickers Tour', which was a real privilege to be invited to.
The Chinese State Circus' Ying Yang is a brand new production, showcasing traditional artistry which can trace its way back over 2000 years.
Ying Yang is the interaction of two energies in a dynamic system of balance. And what balance these performers have! Their acrobatic skills defy belief, and it wasn't until a performer very occasionally lost their footing, dropped a plate or Diablo that you actually believed that these performers were real.
The music from the all-girl group of musicians was captivating; these girls played their traditional Chinese instruments with ease and power, and I was delighted that they played live throughout each performance.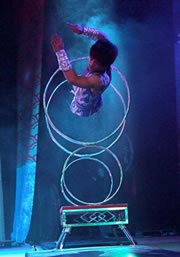 Rarely is such excitement generated in a theatre... the whole audience hangs breathless - Manchester Evening News
There are twelve spectacular acts performing throughout the show, and the audience are never left bored - with each set change we were treated to comedy and trickery from The Monkey King, a widely known Chinese legend. Little tip - if you book front-row seats then beware, you could end up with a lapful of popcorn, which will delight the kids!
The Double Pole climbers opened the proceedings with a death defying display of acrobatics, a skill that is depicted in drawings from over 1,000 years ago. These acrobats perform gravity-defying stunts whilst shimmying up free standing poles, thrilling the audience as they jump from pole to pole.
The skills and strength of these amazing performers can sometimes be underestimated. During one performance from the Oriental Swan dancers, one swan showed off her skill with a one-legged balance en-point ON her partner's head!
It was the hat juggling that I was particularly impressed with, who worked skilfully and quickly to bring a comical aspect to their act, much to the delight of the audience.
The Shaolin Warriors are warrior monks who, with the help of controlled breathing, bring on a trance-like state, enabling them to attempt near-impossible feats at fast lightning speed. I couldn't help but feel sorry for the monk who had a number of bricks smashed over his head! The warriors were awe-inspiring to watch and we all wished that they could have performed for longer.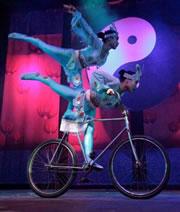 The Hoop Diving was especially impressive; the acrobats run, somersault and twist through hoops with a diameter as little as 18 inches, and the height and speed at which they can jump is impressive.
The foot juggling was performed by some amazing female artists who displayed incredible strength and stamina. Try lying on your back, and use your legs and feet to flip not just umbrellas and Chinese drums, but also people!
This is a show not to be missed. With jaw-dropping performances that are suitable for an audience of all ages, accompanied by spine-tingling music, British audiences are treated to a spectacle that you really won't want to miss.
The Chinese State Circus will be touring throughout the UK until their final performance on 5th May at the Wakefield Theatre Royal.
Interview with Phillip Gandey, Director of Chinese State Circus

Phillip, it's nice to speak to you again. We spoke last year after the Lady Boys Of Bangkok performance. How are you?
Phillip - Yes thank you for that review. I am very tired - I came back from Bangkok on Monday and I will be jetting back there in a few days, as I am organising the next show with the Lady Boys of Bangkok.

Oh good, something to look forward to. Thank you for inviting us to the Chinese State Circus at The Lowry in Manchester, we really enjoyed it. How long did it take to source the material?
Phillip - It takes about 12 months from start to finish organising the acts for the circus. The show changes every two years. We start with contacts in 5-6 Chinese cities, and the first 3 months we spend visiting and contracting the acts that we like.

What gave you the idea to run with the Chinese State Circus?
Phillip - I come from a 3rd generation traditional circus background. When we found out that the law was going to change to ban animals from traditional circuses, we decided to look into other ideas.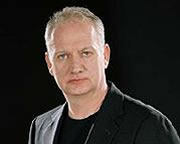 Phillip Gandey, director of The Chinese State Circus. The Gandey family have been staging circuses since 1900 when Phillip's grandfather set up the company.
Whilst we were watching the International Circus Festival in Monte Carlo, we were struck by the amazing Chinese performers; it was their skill and agility that impressed us.
We went away and negotiated with their agencies and the Chinese State Circus was born! We started with 35 Chinese acrobats who we brought to the UK.
The show proved an instant hit, performing to capacity audiences throughout UK and Europe. We appeared on The Royal Variety Performance television show and at the Royal Albert Hall.
The testament to the show is in the quality of the acts which has taken us now into our 20th year!
We decided to drop the story telling and theatre production like the Moscow State Circus and Cirque Du Soliel and just concentrate on the old fashioned type circus which sees one act follow another, set to the amazing talents of our Chinese musicians.

The acrobats are very skilful and agile, and some of the moves are very dangerous. Have there been any serious accidents?
Phillip - Unfortunately, it all comes down to the law of averages and the nature of the business. Most of the performers insist that they don't use nets or harnesses; some will not even perform if they are requested to do so.
About 5 years ago one female performer fell during a high wire rehearsal, she unfortunately fell on her back and damaged her spine. This was an isolated incident, and the most serious in 20 years. Amazingly most of the accidents are minor, which can include cracked ribs and broken thumbs.

A special question from my son, who was in awe of the Shaolin Warriors, how did you source them and are they authentic Shaolin Warriors?
Phillip - Yes, the Shaolin Warriors are authentic martial art warriors, who, because they have lived and been trained by Shaolin Monks in China, can claim affiliation with the Shaolin Monastery which is a School of Kung Fu.

All the acts are sensational and so diverse. Which one of the acts is your particular favourite?
Phillip - My favourite act is the hoop diving. This traditional act originates from over 2000 years ago; they are fantastic and that is what the acrobats are all about!

So back from Thailand after working with the Lady Boys of Bangkok, are you able reveal the name of the show and tell us what we are to expect this time round?
Phillip - Of course. It's called Carnival Queen, and as usual there will be a twist to the name, and there will be a few surprises along the way. The songs are set and I can tell you that John Terry and Miss Piggy will be making an appearance, as well as Steps.
We will also be celebrating fifty years of James Bond. It is going to be a very good show. Tickets are on sale, and there is already heavy booking for the Edinburgh and Newcastle performances.

When do the Lady Boys of Bangkok kick start their tour of the UK?
Phillip - They will be arriving soon in the UK and will be kick starting their tour in Derby on Friday 6 April.
---
We will certainly be looking forward to seeing them again. Thank you Phillip, and the best of luck with the rest of the Chinese State Circus tour and the up and coming Lady Boys tour.
Chinese State Circus Video
Chinese State Circus Tour Dates 2011
#tourdates td {vertical-align:top}
#tourdates {line-height:14px}
Date
Town / Venue
Tickets
20th to 22nd February

Bromley
Churchill Theatre
08448 717 620
Tickets


24th & 25th February

Kilmarnock
Grand Hall
01563 554900
Tickets


26th & 27th February

Inverness
Eden Court
01463 234 234
Tickets


28th & 29th February

Dundee
Caird Hall
01382 434940
Tickets


2nd to 5th March

Kikcaldy
Adam Smith Theatre
01592 583302
Tickets


6th & 7th March

Newcastle upon Tyne
Tyne Theatre
0844 493 9999
Tickets


9th to 10th March

Lichfield
Garrick Theatre
01543 412121
Tickets


12th to 14th March

Darlington
Civic Theatre
01325 486555
Tickets


15th & 16th March

Barrow in Furness
Forum 28
01229 820000
Tickets


17th & 18th March

Sunderland
Sunderland Empire Theatre
0844 871 3022
Tickets


20th to 22nd March

Crawley
The Hawth
01293553636
Tickets


23rd to 25th March

Dunstable
The Grove
01582 602080
Tickets


26th & 27th March

Stoke on Trent
Regent Theatre
0844 871 7649
Tickets


28th & 29th March

Retford
Majestic Theatre
01777 706866
Tickets


30th Marc to 1st April

Bournemouth
Pavilion Theatre
0844 576 3000
Tickets


3rd to 5th April

Worthing
Pavilion Theatre
01903 206 206
Tickets


6th & 7th April

Weymouth
Pavilion Theatre
01305 783225
Tickets


8th & 9th April

Birmingham
Alexandra Theatre
0844 871 3011
Tickets


10th to 12th April

Torquay
Princess Theatre
0844 871 3023
Tickets


13th to 15th April

Scunthorpe
Baths Hall
0844 854 2776
Tickets


16th to 18th April

Tunbridge Wells
Assembly Hall Theatre
01892 530613
Tickets


20th to 22nd April

Salisbury
City Hall
01722434434
Tickets


23rd to 25th April

Wimbledon
New Theatre
0844 871 7646
Tickets


26th to 28th April

Fareham
Ferneham Hall
01329 231942
Tickets


30th Apr to 2nd May

Leicester
Corve Theatre
0116 242 3595
Tickets


3rd to 5th May

Wakefield
Theatre Royal
01924 211311
Tickets


---
---