2 Fingers Pop-up @ Spit and Sawdust Beer Festival
NEWS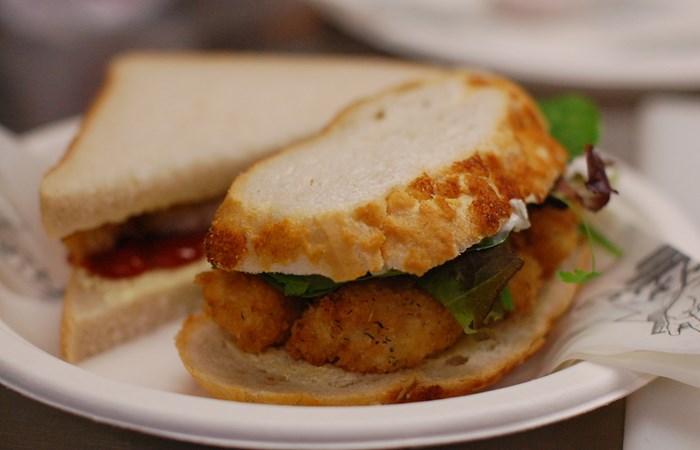 2 Fingers – 'London's original fish finger bad boys' will be sticking 'em up down south at the Spit & Sawdust Beer Festival.
---
---
Street Food pop-up sensation 2 Fingers London's original fish finger bad boys will be sticking em up down south at the Spit & Sawdust Beer Festival, Elephant & Castle on the 27th & 28th May. Expect 2 finger lickin' days of fun and frolics with a selection of 30 beers,live music and DJs to wash your sarnie down with!
Kick back and chillax in The Spit and Sawdusts sun soaked beer garden with 2 Fingers much-esteemed fish finger sandwiches, which come packed with sustainably sourced and responsibly caught cod loin steak, on award-winning artisan bloomer loaf.
More recent additions to the new extended retro-menu include, Soft Shell Crab Burgerwith napa-slaw, as well as, Bnh M 2with pickled Daikon radish and carrot, chilli and coriander all packed in a warm baguette.
Fish fingers dont float your boat? Enter the B.A. Baracus Bean Buster Burger, lightly spiced, with a zingy home-made fresh salsa. For your bit on the side theres the deliciously more-ish Sweet Potato Fries with a dusting of sweet smoked paprika.
Wash it all down with a selection of craft beers from the local area (and a little beyond), including Four Pure, Ansbach & Hobday, BBNO, Southwark Brewing, Partizan just to mention a few. With a focus firmly on artisan craft and independent beers, the Spit and Sawdust claims to have the biggest selection of beer available in Elephant & Castle!
The soundtrack for the beer festival will consist of a hot mix of up and coming artists and musicians, including the likes of The Gator Dog Snappers feat. Alice Phelps, Daniel Orcese, Nico A.A., Jeremy E.Tuplin, Katharine Rose, Lo Barnes plus DJ's Domzilla and Tim.
The recently refurbished beer garden provides some much-needed solace from the local hustle n bustle, with the recent addition of an Arcade Caravan where you can enjoy your own music, drink more beer and play retro-arcade games including classics such as Pac Man and the infamous Street Fighter II.
Catch 2 Fingers at the Spit and Sawdust Beer Festival for your stairway to fish finger sandwich heaven!
About the author
Follow 2 Fingers on Twitter @eat2fingers for our latest locations, muse, news events & secret offers! If you would like to review 2 Fingers, find out more about the concept, please contact Rick Panesar for further information. 2 Fingers Radio is run in conjunction with SoundAdviceUK - a concept created and run by a collective of local media, design and creative professionals, musicians and interns. For regular e-bulletins sign-up to the #FishFingerFix - excellent nutritional value, providing high quality protein and a wide variety of vitamins and minerals, including vitamins A & D, phosphorus with a healthy dose of Omega-3! 2 Fingers is 'The Ultimate Fish Finger Sandwich Experience' - a hotspot for film and TV locations, photo shoots and celebrities. Ricky Panesar is available for public events, TV appearances and radio interviews too…apparently!
---
---