Across the Black Waters: Bringing Fact and Fiction Together
NEWS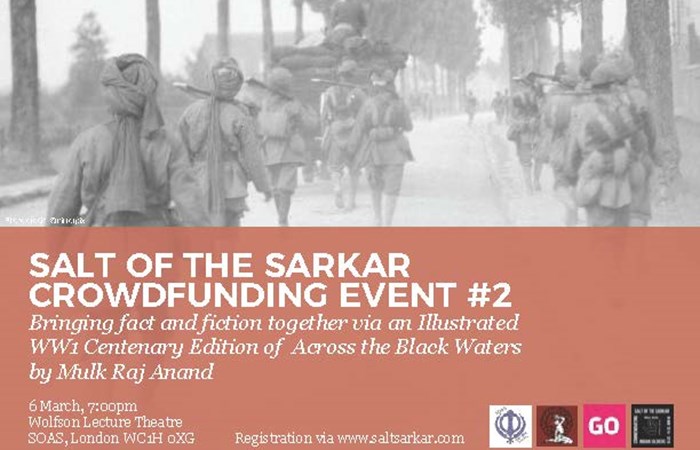 Across the Black Waters: Rarely seen WW1 archive photos from September 1914 revealed. We are telling the story of the soldiers from Undivided India. Presented by Salt of the Sarkar in partnership with the Sikh Society SOAS London UK
---
---
This Salt of the Sarkar event is the 2nd in a series of events, part of our crowdfunding campaign to publish the first illustrated edition of Mulk Raj Anands novel Across the Black Waters, which was first published in 1940. This illustrated printing is the next stage of our Salt of the Sarkar project during these Centenary years of WW1 highlighting the contributions of soldiers from Undivided India Hindu, Muslim, Sikh and others who fought for Britain.
We are excited at the opportunity to illustrate Mulk Raj Anands novel with photographs taken by Daily Mirror pioneer photographer, Horace Grant, during the first days and weeks of arrival of the historical regiment the novel is based on. These were the very first Indian troops to arrive in France to fight in a European war.
We invite you to join us by contributing to our crowdfunding appeal: https://igg.me/at/acrosstheblackwaters
And to sign up to our free e-publication Frontline, via our website http://saltsarkar.com, to receiving ongoing information and news about the project and the discoveries of how fiction and facts give voice to forgotten soldiers and insight to events in our world today.
THE PROGRAMME
6 March, 2017 at 7 pm
Free admission with ticket
Tickets available at http://saltsarkar.com
Venue: Wolfson Lecture Theatre, Paul Webley Wing SOAS
Torrington Square
London
WC1E 7HX
United Kingdom
We focus on the period covered by Mulk Raj Anands novel Across the Black Waters starting in Marseilles on 26 September 1914, and continuing on into the first bitter winter of the War in the trenches of Flanders and France. Fact and Fiction come together to tell the story.
Speakers:
Baroness Flather
Memorial Gates Council
Dr Santanu Das
Reader in English Literature, Kings College London
John Mead
Archives Manager, Mirrorpix Library
Dominic Rai and Caroline Goffin
Co-directors Salt of the Sarkar
Facts: We discover the collection of unique images taken by Horace Grant, Daily Mirror pioneer press photographer present in the South of France as the Indian troops arrived in Europe to fight in a European War for the first time.
Fiction: Across the Black Waters We enjoy a short reading of an extract from Mulk Raj Anands novel and start to discover the life and experience of the soldiers.
Bringing Fact and Fiction together via an illustrated WW1 Centenary Edition of Across the Black Waters by Mulk Raj Anand
The novel will be on sale at the event priced 10 and is also available from Shalimar Books: http://www.indianbooksuk.com/product/across-the-black-waters/
This re-print of Mulk Raj Anands classic novel, Across the Black Waters is a significant moment in the centenary of the Great War.
Jatinder Verma, Tara Arts, August 2014
About the author
Dominic Rai & Caroline Goffin Co-Directors Salt of the Sarkar 07519 634 282 saltsarkar.com
---
---