And the category is...Nude Realness at the Inaugural Starkers Academy Ball
NEWS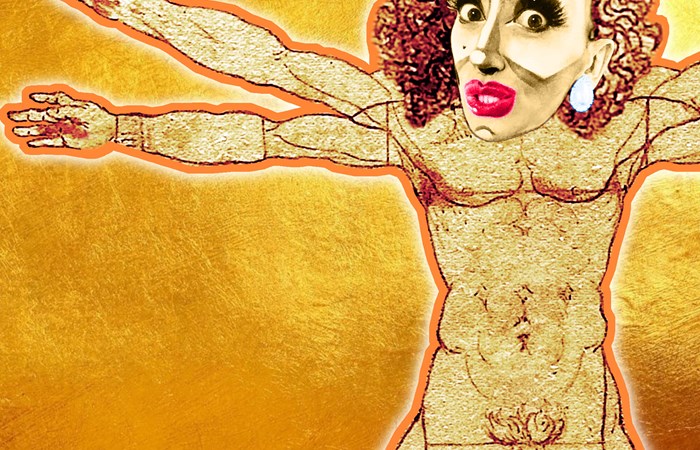 Bringing the glamour and camp of Ball culture   to life drawing audiences of all abilities for Pride in London
---
---
Figuration presents a life drawing extravaganza hosted by ultra-queen and feminist clown Kiki Mellk, Mellkias top Professor of Art.
Immortalised by 1990 documentary Paris is burning, Madonnas iconic Vogue and the more recent televised phenomenon Pose, the drag Ball culture was all about the power to exert identity through transformation, performance and sheer guts. At the Starkers Academy Ball, the life models will be giving Nude Realness as they pose for a drawing public of all abilities, sexes, sexualities, genders and backgrounds.
Ooooo darlings, it's me, Kiki! And yes, arty Bibshkis, you get to draw my lovely nudey models at the very first Starkers Academy Ball. Flex those artistic muscles - whether you've flexed them before or not, darlings - in the grand hall of the sparkly, spanking new HQ of Gay Star News. Let's hava Kiki! - Kiki Mellk
The Starkers Academy is the brainchild of artists model and creative entrepreneur Roy Joseph Butler. Born on the glitter-strewn stage of The Glory in 2017, it was a response toincreasing interest in trying life modelling for the first time, particularly from those seeking stillness in a too-busy world or confronting body image or mental health challenges. The Starkers Academy has become a space where new life models and life drawers of all abilities come together to celebrate who they are, what they are, and what they can accomplish together.
Spotted at the Edinburgh Fringe 2018, Kiki Mellk was invited to guest host, bringing her unique brand of body-positive cabaret. And now the Academy comes of age at the first Starkers Academy Ball, featuring five of our greatest graduates from Academies past.
The Ball will take place at Londons latest LGBTQI hub, the grand new headquarters of LGBTQI news website Gay Star News in Stepney, London.
Can't draw? Who cares!
Notes to editors:
Figuration is a studio for visual stories specialising in animated content and figurative arts workshops, with image-making as storytelling at their core. Our partners include community organisations, creative industries and museums and galleries.
Figuration is registered with Social Enterprise UK.
Joanna Calderwood (aka, Kiki Mellk) is an actress and performance artist who has performed to packed audiences at Edinburgh Fringe Festival, Brighton Fringe Festival, Leicester Squares Hippodrome and East London hotspot The Glory. Her one-Kiki cabaret show, Law of Attraction, gave birth to alter-ego Kiki.
For more info about Figuration email Roy at roy@figuration.co or visit www.figuration.co.
For more info about the Starkers Academy Ball email hello@figuration.co or www.figuration.co/whatson.
Tickets available online at www.figuration.co/whatson-x/2019/5/18/starkers-academy-ball.
For more info about Jo Calderwood visit http://jocalderwood.com.
About the author
www.figuration.co At Figuration, we believe creativity inspires fresh thinking about the world and the stories we tell. Amid a rapid rise in visual consumerism, we use animation and image-making to provoke, entertain and encourage people to unlock their creative potential. We work with cultural institutions, creative industries and grass-roots organisations, from the world's leading museums to local libraries. We have won awards for our animation and a cult following for our activist life drawing. In everything, we draw on decades of expertise in crafting campaigns and direct community engagement.
---
---