Dncaing with Parkinson's
NEWS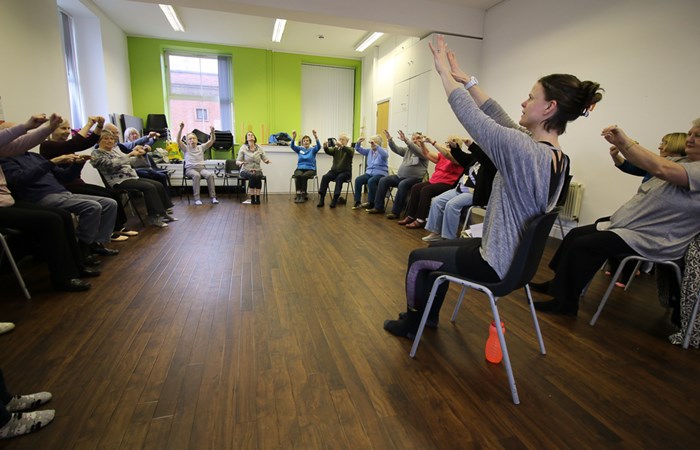 Ascendance launches a new 'Dancing with Parkinson's' programme across Leeds and Bradford.
---
---
Ascendance launches a new Dancing with Parkinsons programme across Leeds and Bradford.
Where: Otley Courthouse Wednesdays May 2nd May 30th 11.30-12.30am
Pudsey, Robin Lane Thursdays May 3rd July 26th 11.15am-12.45pm
Saltaire Victoria Hall Thursdays May 3rd July 26th 1.30-2.30pm
Meanwood, Holy Trinity Community Hall Fridays May 4th July 27th 10.30-11.30
Charitable company Ascendance are launching their successful programme called Dancing with Parkinsons across Leeds and Bradford.
This is a unique programme for people to take part in our friendly and energised dance classes, supported by Leeds Inspired, Arts Council England and Parkinsons UK.
Each class is an hour long and is designed to help people with Parkinsons and other conditions which restrict mobility. Accompanied by fun and enjoyable music, the classes are expressive, creative and promote feelings of freedom from the physical and social constraints of neurodegenerative disease.
We are thrilled that we are able to offer such an important programme in Otley, that allows us to open a community class that has can improve quality of life, balance, gait and postural stability. Robin Lane is such a forward-thinking surgery who advocate that social is just as important as medical interventions for the patients overall wellbeing. We cant wait to start getting people moving again Rachel Wesson, Artistic Director
Participants may be learning the tango and salsa one week; the hand jive the next and even be guided around the room for a ceilidh dance. Stay on afterwards for a raffle, coffee and cake. All ages, young and old, are welcome to join in the fun, including carers and friends with or without dance experience!
Book on-line www.ascendance.org.uk or Email: classes@ascendance.org.uk / 07933 685359
Photo credit: Lucy Barker
About the author
Ascendance a a charitable dance company who run a outreach programme 'Dancng with Parkinson's Charity Number 1110747
---
---