Important 6ft-Long Engraving Lampooning the Prince of Wales On Sale at Chester A
NEWS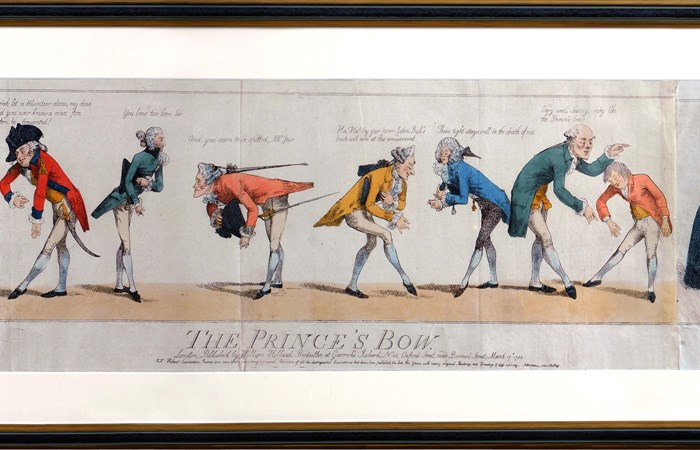 An extremely rare and historically important cartoon engraving, lampooning the Prince of Wales (later George IV), will be a major attraction when it goes on sale at The Chester Antiques Show, at the County Grandstand, Chester Racecourse, 12th – 15th October.
---
---
Antique dealer David Harvey of W.R.Harvey is offering this enormously long engraving measuring six feet in length. He explains: This important satirical engraving that pokes fun at the Prince of Wales is one of only three known to exist, the other two residing in the British Museum and the Library of Congress, Washington, USA. Titled The Princes Bow it shows 19 figures comically imitating the
famous moment when the Prince took a flambouyant bow before the throne at Westminster Hall, an overly gracious gesture to the symbol that represented the authority of his father, King George. This was at the commencement of the famous trial of Warren Hastings, former Governor of India, by Parliament,
which lasted seven years and resulted in his acquittal. The Princes Bow moment was widely reported and the subject of considerable gossip and mirth.
This hand-coloured engraving was published in three sections by William Holland in London, March
17th, 1788 and was taken from the original painting, now lost, by the artist F. G. Byron Esq, (1764-1792),
a relative of Lord Byron, the famous poet. It will be on sale for 7,000 and offers the chance for a collector to acquire an important piece of royal and political history.
The Prince of Wales (1763-1830) is remembered for his life of dissipation and wild extravagance, involving heavy drinking and numerous mistresses and escapades. He served as Prince Regent during the time of his father, George IIIs illness, before taking the throne as George IV in 1820. He was a figure sometimes admired, more often ridiculed.
About the author
Chester Antiques Show is organised by Penman Fairs. Tel: 01825 744074.
---
---