Manchester Histories Festival 2016 - Not your ordinary hist
NEWS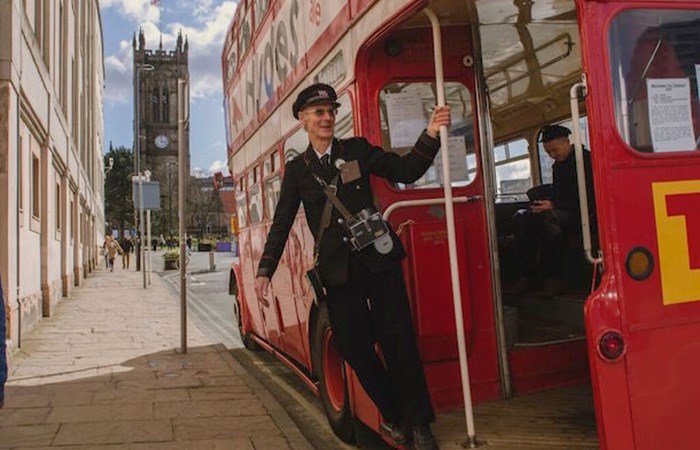 From the 3-12 June 2016, the biennial Manchester Histories Festival (MHF) returns across Greater Manchester for the fourth time. Including 180+ events and activities, many of them free, including the Manchester Celebration Day at Manchester Town Hall and Manchester Central Library on Saturday 11 June 2016.
---
---
The biennial Manchester Histories Festival returns across Greater Manchester from the 3-12 June 2016 PROGRAMME ANNOUNCED.
As the late Tony Wilson once said "This is Manchester. We do things differently here", so if youre looking for historical re-enactments, Spitfire flyovers and the firing of cannons, Manchester Histories Festival might not be for you! But if youre after playing online games, a queer review, sharing ordinary peoples stories from diverse communities, being part of making tomorrows histories, exploring reggae in the city, discussing the issue of homelessness now and then, walking tours, bike tours, and running tours, or listening to an artists historical soundscape then we might be just what youre looking for.
From the 3-12 June 2016, the biennial Manchester Histories Festival (MHF) returns across Greater Manchester for the fourth time. Including 180+ events and activities, many of them free, including the Manchester Celebration Day at Manchester Town Hall and Manchester Central Library on Saturday 11 June 2016.
Delivered by the small charity Manchester Histories (MH), MHF is unique amongst histories festivals in the UK for working in collaborative partnerships with communities, individuals and organisations. Offering ten-days of music, film, debate, a digital game, talks, theatre and performance, tours, exhibitions and more, MHF aims to both celebrate the familiar and reveal the new and hidden histories from across Greater Manchester. Whether people would describe themselves as history fans or not, MHF 2016 will have something for everyone.
Alongside the large cultural venues and bodies, over 100 individuals, organisations and groups are partnering with MH in 2016 including: Ahmed Iqbal Ullah Education Trust, the British Muslim Heritage Centre, Henshaws, Caf Historique, Feminist Web, Manchester Aid to Kosovo, Manchester Cathedral, Manchester Jewish Museum, Manchester Quaker Meeting House, North Manchester Black Health Forum, the Irish Diaspora Foundation, Out from Under Theatre Company, and the Wood Street Mission, to showcase and celebrate the rich diversity and often hidden stories and contributions of Greater Manchesters people and communities.
Im delighted to see the involvement of many new partners to this years festival. It demonstrates a high level of participation in histories and heritage, and its importance to people across Greater Manchester, says Claire Turner, Manchester Histories Chief Executive. In a time of great change, heritage has an important role in helping to build community cohesion, and a sense of identity and belonging. Even more importantly, its about having fun together as people share and learn about their own and other peoples pasts and hoped for futures.
MH is also pleased to announce that Manchester School of Art at Manchester Metropolitan University, Manchester School of Architecture, the National Football Museum and Manchester Histories are working together to present Landscapes of Identity Symposium: Mapping the Place Identity of Manchester. As the 20th anniversary of 1996 Manchester bombing approaches this event on Wednesday 18 May at the National Football Museum will be a Trailblazer for MHF 2016.
#MHF 2016 TEASERS
M-HISTORIES WEEKENDER The second edition of M-HISTORIES WEEKENDER will celebrate Moss Sides international heritage with exhibitions, events and activities. 9.30am 6pm, Sunday 3 & Saturday 4 June. Coffee Nubia, 155B Princess Road, Moss Side M14 4RE. FREE / DROP-IN
The Battle for the Ballot Singer-songwriter Quiet Loner tells the story of how working people came to have a vote. Using original songs alongside images this show crosses the centuries to show how the right to vote was won. Beginning in the Industrial Revolution the story will take in events like the Peterloo Massacre and introduce the people - Chartists, politicians and Suffragettes - who fought for the ideal of 'Universal Suffrage'. Matt Hill aka Quiet Loner is the People's History Museum Songwriter in Residence for 2016. 2-3pm Saturday 4 June. Peoples History Museum, Left Bank, Spinningfields M3 3ER. FREE / BOOKING RECOMMENDED
Making Music in Manchester during WW1 Previously unseen items from the RNCM archives will be on display to explore ahead of presentations by Prof. Barbara Kelly (Director of Research, RNCM), Geoff Thomason (Deputy Librarian, RNCM) and PhD student Rachel Johnson. Plus there will be a recreation of a concert performed during WW1 by current RNCM students of Debussys Sonata for Cello and Piano (1915). 11am-4pm Sunday 5 June. RNCM, 124 Oxford Rd M13 9RD. FREE / DROP-IN
Destination Ireland Screening of fascinating and rarely seen documentary and private film footage that tells the journeys of Irish people between Ireland and Manchester from the 1930s to the 1980s. Drawn from the collections of the Northwest Film Archive at MMU, this collection of short films from a variety of sources, offers a unique view into the history, heritage, landscapes and social life of Ireland and the Irish, at work and at play, in the mid-twentieth century. 6:30pm Sunday 5 June. Irish World Heritage Centre, 1 Irish Town Way, Cheetham M8 0RY. 3 / 1.50 12+ / BOOKING RECOMMENDED
WoManchester Cycle Tour A six-mile guided cycle tour visiting sites associated with the six women shortlisted for a new statue as part of the WoManchester Project (Elizabeth Raffald, Elizabeth Gaskell, Margaret Ashton, Emmeline Pankhurst, Ellen Wilkinson, and Louise Da-Cocodia). Hear stories and song about these women who made significant contributions in Manchester and beyond. 11am-2pm Sunday 12 June. Meet outside Manchester Town Hall, Albert Square M60 2LA. 10 / BOOKING RECOMMENDED
Making Manchester Highways in the sky, elevated pedestrian walkways, monorails, responsive facades and moving pavements were all part of the fantastical visions that post war planners and architects thought would compose our modern city. Manchester School of Architecture, the School of Computing, Mathematics and Digital Technology at MMU, The School of Environment, Education and Development at the University of Manchester and the Manchester Modernist Society present this new exhibition that will bring these never-to-be-built visions of the future to life for the first time through digitally recreated gaming environments, alongside archive material and plans from from 1960-75. Mon Fri 9am-5:30pm throughout MHF. Oxford House, Manchester Technology Centre, Oxford Rd M1 7ED. FREE / DROP-IN
Stick your oar in As part of Minecrafting in Salford, an ambitious new project which is inviting men living in communities along the Bridgewater Canal to utilise their skills and creativity to build a Starvationer boat, like those once used in the Duke of Bridgewater's coal mines that led to the development of the canal back in 1761. The project was developed by Salford City Councils regeneration team in response to research that found that isolation and loneliness is more common in the UK in older men than women. The group are now inviting anyone wanting to be part of this project to this companion workshop. Participants will spend the day learning wood-crafting skills and making a paddle which they can take away with them. All levels of experience welcome. 10am- 3pm Wednesday 8 June. Duke's Drive Country Park, off Parrin Lane, Monton, Salford M30 8AP. FREE / BOOKING ESSENTIAL
An Audience with FA Cup Heroes Manchester United Museum presents FA Cup winners Arthur Albiston and Lee Martin at Old Trafford for this panel discussion. With twenty years of experience and numerous medals between them, they know what it takes to make it on the pitch. 6-8pm Wednesday 8 June. Manchester United Museum, Sir Alex Ferguson Stand, Sir Matt Busby Way, Old Trafford M16 0RA. 5 / BOOKING RECOMMENDED
Radical Hero: An Audience with Betty Tebbs Born 10 April 1918 in Bury Lancashire, lifelong activist Betty Tebbs has worked tirelessly for womens rights, workers rights and the campaign for peace. In the early 1950s she successfully led women in the first ever strike for equal pay. She spent 17 years creating a trade union that fought for equal rights across the board. She has been involved in international peace negotiations, she was the President of the National Assembly for Women, and has been banned from America. When she was 89 she was arrested for her anti-Trident protests and at 98 continues to campaign. Join Betty and a special guest presenter to talk about her extraordinary life. 6-9pm Thursday 9 June. Peoples History Museum, Left Bank, Spinningfields M3 3ER. FREE / BOOKING RECOMMENDED
Film Premiere and Q&A: 1599 A True Story of the Elizabethan Court Feature-length docudrama 1599 is about two young people from Ordsall Hall in Salford (Margaret Radclyffe was a maid of honour to Queen Elizabeth I and her twin brother, Alexander, who was a friend of the foremost celebrity of the day, the Earl of Essex). Filmed on location in Manchester and the North West 1599 is narrated by Christopher Eccleston and presented by Clare McGlinn, and also features documentary-style interviews with academic specialists and musician Peter Hook. 7.30pm (7pm doors open) Thursday 9 June. Three Minute Theatre, Afflecks Arcade, 35-39 Oldham Street M1 1JG. FREE / BOOKING RECOMMENDED
MHF Celebration Day Bringing together nearly 100 histories and heritage organisations from across Greater Manchester including Back on Track, Greater Manchester Fire Service Museum, Gallery Oldham, Jodrell Bank, the Ramblers, the Royal National Lifeboat Institute, Royal Northern College of Music, Wood Street Mission, amongst many more. With exhibition stands, games, heritage bus rides, craft activities, film screenings, performances and talks, there will be something for all the family, plus it provides a perfect opportunity to find out how to get involved with these organisations that celebrate, preserve and explore Greater Manchesters past. 10:30-4pm Saturday 11 June. Manchester Town Hall, Albert Square M60 2LA & Central Library, St Peter's Square M2 5PD. FREE / DROP-IN [TALKS / BOOKING RECOMMENDED]
Angel Meadow: Victorian Britain's Most Savage Slum Journalist and author Dean Kirby takes readers on a hair-raising journey in his latest book; through the gin palaces, alleyways and underground vaults of this nineteenth century Manchester slum considered so diabolical it was re-christened 'hell upon earth' by Friedrich Engels. Join Dean in conversation at this Celebration Day event. Time TBC Saturday 11 June. Manchester Town Hall, Albert Square M60 2LA FREE/ BOOKING RECOMMENDED
Manchester and the Peppered Moth Perhaps the most famous example of natural selection the Dark Peppered Moth spread rapidly during the 19th century in Britains industrial, sooty environment. Genetics expert Prof. Laurence Cook who has been studying the evolution of the Peppered Moth since the 1960s and Head of Collections & Curator of Zoology Henry McGhie from Manchester Museum will talk about the Moth and its links to Manchesters history and development. 3pm-4pm Saturday 11 June. Manchester Museum, University of Manchester, Oxford Road M13 9PL. FREE / BOOKING ESSENTIAL
Edgar Wood: Middleton Architect Guided Walk Edgar Wood was an architect, artist and draftsman who practised from Manchester at the turn of the 20th century and was regarded as a proponent of the Arts and Crafts movement. He designed over twenty buildings that survive today in Middleton, including the spectacular Arts & Crafts Church (Long Street Methodist) and several grand homes along Rochdale Road. People are rediscovering the genius of Wood and Middleton is uniquely placed as a living museum of his work. 12 noon Sunday 12 June. Starting Outside Middleton Post Office, 53 Manchester New Road, Middleton M24 1SQ. 8 + 1 booking fee / BOOKING ESSENTIAL
Manchester Ballads In the 19th century, the news was presented as single sheets of paper printed with a ballad to be sung of the day's happenings. Manchester was one of the most important centres for the production of this cheaply produced street literature which was sold to ordinary people in the city streets, and Chetham's Library holds a large collection of these printed ballads. For MHF Band on the Wall is hosting a day of performances, films, exhibitions and talks, featuring social archaeologist David Jennings; producer of Edward IIs Manchesters Improving Daily, Gavin Sharp; pre-eminent broadside balladress Jennifer Reid; folk singers Mark Dowding and Chris Pollington; and The Fosbrooks. A day for all ages. 1pm-5:30pm Sunday 12 June. Band on the Wall, 25 Swan St M4 5JZ. FREE/ BOOKING RECOMMENDED
The full Manchester Histories Festival programme can be found at manchesterhistories.co.uk.
About the author
For further information, interviews or press images please contact Jennifer Dean on 07766 046 672 / j.dean06@gmail.com or jennifer@manchesterhistories.co.uk
---
---