Mark Anthony As Prince Tours Britain During 2018
NEWS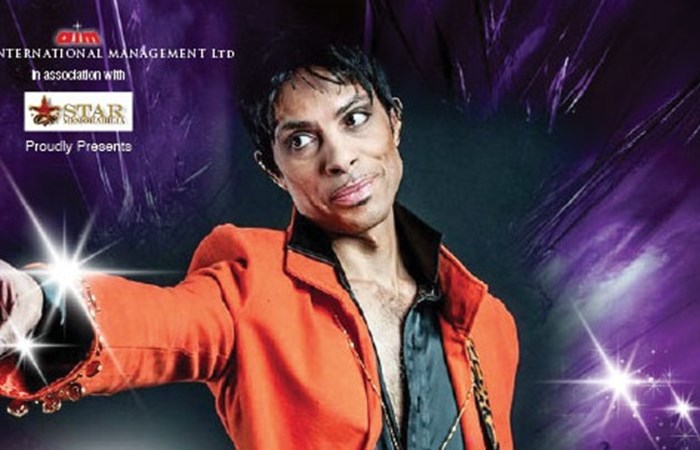 The world's top Prince tribute is to tour the UK during 2018.
---
---
Entertainment Management agency, Star Memorabilia Limited, announce that their client, Mark Anthony, will be conducting a tour of the UK this year.
It was Marks fortune that he is the spitting image of one of greatest musical legends of all time, PRINCE.
Mark first came to the publics attention when he became the first doppelganger to appear on Top Of The Pops in the guise of the global superstar Prince.
Since Princes untimely death in April 2016, Mark has been very active with TV and other work.
The year 2017 started with Mark starring as the elder Prince in biopic The Prince Story: Icon, GeniusSlave which premiered on Channel 5 on Easter Sunday of 2017.
Mark also appeared as Prince in the documentary Autopsy: The Last Hours Of Prince which was shown in May 2017 in the US.
Around the same time, Mark played Prince in the video for the release of a new Prince EP called Deliverance. Prior to the formal release of the EP on 21st April 2017, the record company that hired Mark to film the video, Rogue Music Alliance, was sued by Paisley Park Enterprises and the late singers estate.
In September 2017, Mark appeared as Prince in the new BBC TV programme, Even Better Than The Real Thing. introduced by Paddy McGuiness. This was followed by a further appearance in the programmes Christmas special.
The year 2018 will see Mark keeping the Prince flame alive by undertaking a UK Tour with his live band. His show will feature some of Princes massive hits recordsPurple Rain, Little Red Corvette, Lets Go Crazy, Kiss, 1999, The Most Beautiful Girl In The World, 7, When Doves Cry, Sign O' The Times and Alphabet Street.
He does not just look like Prince, he moves and sings like him as well!
Tickets for the show can be purchased from the theatres or go to http://star-memorabilia.co.uk/mark-anthony-as-prince-to-tour-the-uk-in-2018/
For further enquiries contact Mike Fisherat mike@star-memorabilia.co.uk.
About the author
Manager - Mike Fisher Star Memorabilia Limited www.star-memorabilia.co.uk mike@star-memorabilia.co.uk 07535 018838
---
---