The clock is ticking for D-Day 75
NEWS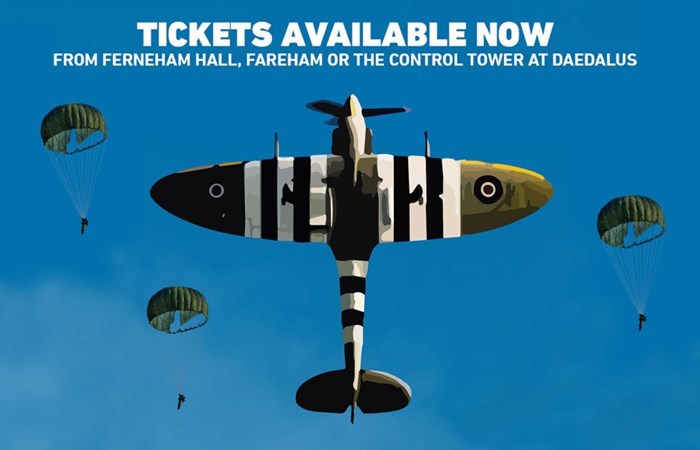 Families can enjoy a special two day event to mark D Day 75 in Fareham.
---
---
With just weeks to go until D-Day 75, plans for a two-day event in Fareham are in full flow with performance acts booked and tickets flying out of the box office.
Around 7,000 visitors will flock through the gates of Solent Airport on Saturday 8 June and Sunday 9 June to enjoy a weekend to remember with a packed programme featuring music, fun activities and planes.
The family friendly event will see the sky full of aircraft with the Great War Display Team flying in replica World War aircraft, the Worlds only wing walker display team, the AeroSuperBatics, a parachute display team and a spitfire G-Spit.
On the ground, activities will include a fun fair, face painting, themed craft activities, character walkabouts, a vintage car display and much more. There will also be displays from a childrens motorcycle display team, historical re-enactments, marching bands and music from the D-Day era.
A range of market stalls and food and drink stalls will be at the event and families can also bring their own picnics and use designated seating areas.
Daedalus is the perfect place to mark the occasion as it was the busiest allied airfield in the UK on D-Day with more than 400 aircraft movements the largest from any UK airfield.
Tickets can be bought in advance from Ferneham Hall, online and at the Control Tower at Solent Airport. Free parking permits can be requested when buying tickets and will be issued on a first-come first-served basis.
A family ticket (two adults, two children) bought in advance is 25 for one day or 40 for the weekend; adult tickets are 8 each day or 15 for both and all-inclusive children 8 for one day or 12 for both. Under 2s go free. Concessions and non-inclusive childrens tickets are also available.
Tickets are selling fast so dont leave it too late to get yours, to make sure you dont miss out on a weekend to remember.
About the author
Fareham Borough Council
---
---