The St. Ives Antiques Fair returns to the Burgess Hall in November
NEWS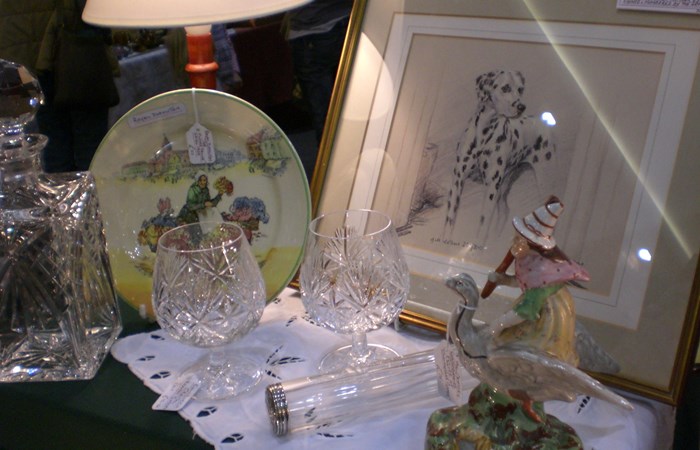 Find some unique Christmas gifts for a loved one among a wide selection of yesterday's treasures that could become tomorrow's treasures!
---
---
Finding that special something for a Christmas gift can be a nightmare unless you pop down to the AA signposted St Ives Antiques Fair on Saturday and Sunday 18th and 19th November at Burgess Hall, One Leisure Centre in St Ives (Cambs). Here you will find the unusual, fabulously special and vintage originals that make gift-giving a breeze! You can choose from the wonderful mix of antique, vintage and retro pieces that will be available from a host of expert dealers at the last Antiques Fair in St Ives before Christmas. It is the ideal opportunity to browse and buy an affordable antique or two which will make the perfect present for a partner, parent or child. said Linda Parkhouse, the organiser.
Antiques are wonderful gifts that last a lifetime! At the St Ives Antiques Fair, there will be an array of choice pieces for every taste from beautiful cut glassware, tableware, porcelain, china and more from well known makes such as Moorcroft and figurines made by Lladro, postcards, boxes and books, fabulous jewellery, both costume and classic, memorable militeria, vintage clothes, scarves, bags, pictures and paintings. We are also delighted that we have a great group of general and specialist dealers who are always keen to share their knowledge, and provide visitors with unique items. Indeed, we know that many of our dealers search out and buy pieces they know their customers will be interested in. Its these personal touches that make this such a friendly fair added Linda.
The Burgess Hall, Westwood Road, St. Ives, PE27 6WU provides comfortable surroundings, ample free parking, wheel-chair access from street level for the disabled and great on-site catering so you can take a break from buying to indulge in a delicious cake or hot snack. The Fair opens from 10 am 4pm and entrance costs just 2 or 1.50 for senior citizens and free for children under 16.
End
About the author
Further information: Linda Parkhouse: Tel: 01480-896866; e-mail: parkhousepr@aol.com www.stivesantiquesfair.co.uk Find us on FaceBook: www/facebook.com/stivesantiquesfair and Twitter: twitter.com/StIvesAntiques
---
---