Snow Patrol Tickets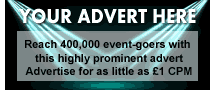 Snow Patrol
Snow patrol is an alternative rock band from Co. Down, Northern Ireland. Band members met at Dundee University in the early 1990s and released their major label debut in 2003; 'Final Straw'. Their subsequent album' Eyes Open' included chart hits such as the hugely popular 'Chasing Cars' which brought them international fame. The band's 5th studio album was released in 2008 'A Hundred Million Suns' by which time they were thought to have sold more than 10 million albums world wide.
---
Compare ticket prices for Snow Patrol with BritEvents - it's quick and easy. We search major UK ticket sellers, including Ticketmaster, Seatwave, Viagogo and GetMeIn to bring you the widest choice of concert, sport, theatre, comedy and festival tickets.
Buy tickets for Snow Patrol live for tour dates in 2013/2014 at the cheapest prices, sometimes even below face value.
Microsoft VBScript runtime
error '800a004c'
Path not found
/inc/page/ticket1.asp, line 59