Ed Ruscha at Wolverhampton Art Gallery
FEATURE
---
Although his name might not be familiar, you're likely to have seen some of his pop art paintings. BritEvent's Lucy Middleton visits his exhibition at Wolverhampton Art Gallery.
---
---
A free education in culture, the Wolverhampton Art Gallery is a wonderful facility to view, discover and even rediscover some of the best past and present artists in existence and remarkably with no fee required.
This week BritEvent's Lucy Middleton visited to view Ed Ruscha's Artist Room exhibition on its last month at the gallery and the British Portrait Award 2011 contenders.
Ed Ruscha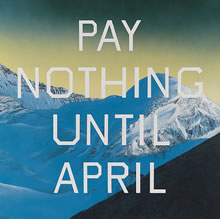 Born in 1937 in Omaha, Nebraska, Edward Ruscha was raised in Oklahoma City, Oklahoma, where his family moved in 1941.
Ed Ruscha - if the name is unfamiliar, it is likely you have already seen his work without realising or viewed work that is heavily-inspired by the talented American artist, renowned in the art world for influencing the pop art movement.
His deadpan humour, irreverence and fascination with American culture are highlighted in this Artist Room series and it is a joy to see his work displayed outside of the main galleries.
Dance? is a mixed media piece consisting of coffee, egg, cheese and various condiments, which were specifically chosen as they are staple supplements for the American fast-food diet.
The tongue-in-cheek work is large, provocative and an example of his struggle, the love/hate relationship with his country.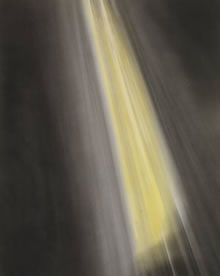 Ruscha's early career as a graphic artist continues to strongly influence his aesthetic and thematic approach.
Miracle #64 is part of a series of drawings by Ruscha in the 1970s. Created with pastels, the drawings show beams of light bursting through dark backgrounds of zinc oxide.
Miracle #64 is a powerful piece that really moved me, yet I found it disappointing that one of my favourite pieces of his was tucked away in the corner of the gallery where it is likely to be overlooked.
A selection of images from his Every Building on Sunset Strip portfolio were arranged well in the centre of the ground floor gallery space.
I can imagine that growing up in slow tempo Omaha, Nebraska and being able to travel to the fast-passed colossal cities such as Los Angeles, California and Las Vegas, Nevada would have easily captivated his inspiration and creativity.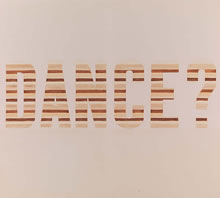 Ruscha has consistently combined the cityscape of his adopted hometown with vernacular language to communicate a particular urban experience.
On the first floor of the gallery hang further inventive works by the artist, including some that have never been shown in the UK before.
The colours and use of text in many of these huge pieces are just phenomenal and need to be seen in person to be fully appreciated.
British Portrait Awards 2011
Looking around the two rooms, I was in disbelief that all fifty-five works in the exhibition are genuine paintings, created by the dexterous hand of man. There were, however, a handful of portraits in particular that made a lasting impression on me.
Wanderflower by Harriet White was created using photographic reference rather than sittings and this shows through in the most spectacular way.
The attractive model wears lavish earrings and bold stage make up, and White has detailed flashes of light where reflection would occur, such as the watery eyes and the sequinned earrings.
As with a camera, there is a central point of focus and a subtle, gradual lessening of detail, making White's portrait skillful, striking and distinguished.
Standing at a height of eight feet, Holly by Louis Smith depicts a beautiful, nude young woman tied to a rock-face and left for the eagles.
Smith was heavily inspired by the Greek myth of Prometheus for this piece and called it a message of composure in the face of adversity. Holly isn't ardently active in subject matter, yet there is enough to hold the attention of visitors.
It is a work that dominates the gallery space, not simply due to its scale, but due to its sheer presence and expressive qualities.
Holly was the painting tipped to win this year's BPA, however it came second to Wim Helden's Distracted, a portrait of a 25-year-old philosophy student.
Art is naturally a subjective matter, however I believe what defines art is the ability to conjure feelings, whether they're positive or negative is irrelevant, and it is those emotions that decipher whether the artwork is one that you like, respect or even hate, creating a memory.
If a painting is not memorable to you, it hasn't made an impression and ergo is unimpressive. When I cast my gaze upon Helden's portrait, reflecting on the use of pictoral space, the technique and the subject, I have no doubt in my mind that the painter is accomplished and I note the use of light in particular is near-perfection and yet I feel absolutely nothing.
I remember this painting for the sole reason that I wondered to myself how something so inexpressive made such an impact of the judges that Helden was awarded 25,000 over the likes of Smith.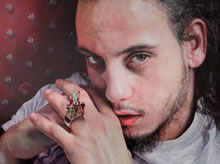 My Son Benjamin, The Lord of the Rings by Istvan Nyari.
After much reflection, I found my personal favourite portrait to be My Son Benjamin, The Lord of the Rings by Istvan Nyari. Benjamin, Nyari's son, is depicted in this large piece, recovering after a night on the town in London.
The focal point of this piece is a quirky ring which was added in the later stages of the piece's creation. Benjamin's directed gaze is so intense that it feels as though he is physically there, staring right into your very being.
The detail, subject matter and overall mood really struck a chord with me and it is unfortunate that this fantastic piece wasn't even considered as a finalist.
October is the last month in which both these exhibitions can be seen, with Ruscha's Artist Rooms exhibition ending on the 29th and the BP Portrait Award 2011 ending 1 November.
Once the Ruscha exhibition finishes in the Black Country, it is doubtful that his work will return in the near future and the astounding portraits shown in the BP Portrait Award exhibition will not be shown together again in Wolverhampton.
It is highly recommended you reignite your passion for art and engage your mind by visiting these fantastic exhibitions before it is too late.
---
---