Stratford Upon Avon tourist guide
FEATURE
---
Although no visit to Stratford upon Avon is complete without visiting one of the museums or events dedicated to preserving the memory of playright William Shakespeare, this historic and vibrant town has plenty to offer for visitors of all ages.
---
---
Stratford-upon-Avon, world-renowned as the birthplace of playwright William Shakespeare, is one of the UK's most popular visitor destinations outside of London. Rich in history and culture, with countless tourist attractions, this small market town is bursting with British charm.
First chartered in 1196, Stratford-upon-Avon is officially 800 years old and walking along the streets amongst the predominantly black and white Tudor buildings, you can see the town has proudly retained its heritage, yet has been modernised to cater for all tastes.
Set on the banks of the River Avon in the beautiful rural county of Warwickshire, the town is an ideal location in which to explore not only this historic town, but the nearby surrounding counties of Gloucestershire, Oxfordshire and Worcestershire, which are all within an hour's journey of Stratford upon Avon.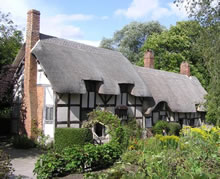 Former childhood home of Anne Hathaway, wife of playwright William Shakespeare, built prior to the 15th century, and open to the public as a museum.
The town is naturally synonymous with the famous British playwright and poet William Shakespeare, and no visit to Stratford would be complete without visiting one of the museums, attractions or events dedicated to his memory.
Born on Henley Street in Stratford, Shakespeare's 37 plays, from the romantic, to the comedic, are considered to be some of the finest ever, and are performed at thousands of venues across the world.
With 3 million visitors a year, Stratford is far from a sleepy town, boasting fantastic tourist attractions for people of all ages. Great places to eat are in abundance with many cuisines offered in charming Tudor pubs and restaurants scattered across the town, along with charming coffee shops if you fancy a light snack and drink.
Getting around in Stratford
Situated on the beautiful River Avon, one of the best means to get around Stratford-upon-Avon is by boat. Kick back and relax as your unsuspecting companion breaks a sweat rowing a hire-boat or book on one of the river cruises - a perfect way to soak up Stratford's atmosphere. You can also explore the town and its glorious surrounding countryside by going green one of the cycle tours in Stratford.
Stratford: Home of William Shakespeare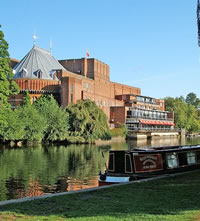 The Royal Shakespeare Theatre is a 1040 seat theatre dedicated to the British playwright and poet William Shakespeare, built in 1932.
Born in 1564 in Stratford-upon-Avon, William Shakespeare is considered to be the greatest writer in the English language, producing internationally renown plays, poems and sonnets.
In Stratford, there are five main houses linked to Shakespeare's life: Shakespeare's Birthplace, Nash's House & New Place, Hall's Croft, Anne Hathaway's Cottage and Mary Arden's Farm. These special houses offer spectacular insight into the life and death of the world's greatest playwright.
The Royal Shakespeare Theatre is one of Britain's most important cultural venues with fantastic productions of Shakespeare's infamous work performed regularly, along with the work of many other talented writers.
When Shakespeare died aged 52 years of age in 1616, he was buried in the chancel of the Holy Trinity Church in Stratford-upon-Avon, with his place of rest making the BritEvents' top 10 Famous British graves list.
Where to go in Stratford-upon-Avon
Watch some of the world's most spectacular and colourful butterflies flying around in a tropical environment at the Stratford Butterfly Farm.
If Shakespeare isn't your bag and it's something different you fancy, Stratford-upon-Avon's Butterfly Farm offers a unique tropical experience with thousands of free-flying, beautiful butterflies for you to meet and is just a few minutes walk from the town centre.
With a town as old as Stratford, there's a lot of spookiness going on and you can ghost hunt with The Falstaffs Experience, who often hold tours around one of the most haunted buildings in the UK.
There's also the Stratford Picture House, which shows classic movies, as well as recent releases and can be found in the heart of the town - perfect if the weather's being typically British!
Stratford-upon-Avon truly is one of the best towns to visit in Britain with its beautiful architecture, an abundance of fine shops, restaurants and cafes with plenty of fun visitor attractions to keep the good times rolling. After all, three million tourists each year can't be wrong!
---
---