Top 10 fireworks displays
FEATURE
---
Every year from mid-October the supermarket foyers are filled with the colourful display of rockets, sparklers, roman candles and catherine wheels, which means just one thing - fireworks night is almost upon us once again.
---
---
Every year in Britain since 1605, the 5th of November has been the date for revellers to celebrate the infamous Gunpowder Plot, the foolish attempt by Guy Falkes to overthrow the King of England by blowing up Parliament. Just as the conspirators were about to carry out their dastardly deed, they were caught, tortured and executed.
Across Britain in early November, the foiled plot is celebrated with the burning of 'Guy' and plenty of fireworks lighting up the sky.
We take a look at the top 10 fireworks displays in Britain (in no particular order). If you're close to one of them, go and check them out!
The townspeople of Mary St. Ottery in Devon lug flaming barrels of tar on their backs in an annual ritual that goes back hundreds of years. Traditionally, these tar barrels are lit at several pubs and hotels around Mary St. Ottery, following a schedule until the last barrel has been carried up to the square, at around midnight.
The 35 foot bonfire, fireworks display and the appearance of a funfair add to the fun and excitement, at St. Saviours Meadow. The ceremonial 'guy' is placed at the top of the bonfire and lit by a flaming torch by the Carnival's Vice President.
---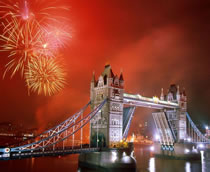 Half a tonne of giant fireworks light up The Thames in London
Although almost 10 days after November the 5th, London's Lord Mayor's Fireworks display marks the end of the spectacular Lord Mayor's Show once night falls, and the night is lit up by half a tonne of giant fireworks which shoot up into the sky over 600 feet, taking 8 pyrotechnicians two days to set up.
This free display is probably one of Britain's most spectacular - for the best views get yourself to Victoria Embankment early to get a space. Alternatively, if that's too busy, try Blackfriars Bridge or Waterloo Bridge for fantastic views of the fireworks.
---
As Scotland's largest organised fireworks display, the event takes place on the 5th of November, set to live music, a fairground and a spectacular laser show in Glasgow Green.
The 2010 fireworks display was the best yet, with more than 50,000 explosions set to music - Mamma Mia the Musical, accompanied by some of the biggest shells being shot up into the night sky.
Entry to the fireworks is free, but be aware it gets very busy, so get there early for a good view of the fireworks and bonfire.
---
A firework tradition that goes back over 350 years, the annual Battel Bonfire Boyes features a parade through the town centre of over over thirty local bonfire societies in fancy dress. The first organised bonfire celebration in the town of Battel was back in 1646 at St Mary's Church, which was allocated money for gunpowder treason rejoicing.
For many years, Battle has traditionally ended the fireworks display with the 'set piece' of an effigy, which are packed with fireworks and exploded with deafening bangs.
---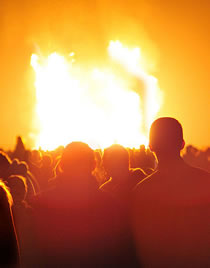 Set to the backdrop of Cardiff Castle, Sparks in the Park is the largest in the area
Cardiff's Cooper's Field will be host to one of Britain's largest fireworks display at the appropriately named 'Sparks in the Park'.
Renowned for being one of the largest fireworks displays in Wales with the backdrop of Cardiff Castle, there will be a mammoth bonfire, funfair, catering and other family attractions.
The best fireworks display for miles, supported by Heart FM.
Lighting of the bonfire from 6.45pm and the fireworks display beginning at 8.30pm.
---
Set on Penrhos Beach in Holyhead, Anglesea, the fireworks display is an extremely popular event taking place on the 5th November, and has previously been included in the Guardian and Telegraph's top 10 UK fireworks displays.
Local bands, children's funfair rides and refreshments always available at the Holyhead Bonfire & Fireworks display.
---
Taking place on Friday 4th of November 2011, Leeds biggest fireworks display is attended by around 70,000 people each year who come to see the massive bonfire and spectacular community firework display.
As the event is free, the display is extremely popular, so turn up early. The bonfire is lit at 7.30pm, with the fireworks kicking off from 8pm.
---
Another of London's biggest and best fireworks displays, Blackheath bonfire is also one of the loudest! The fireworks display is 30 minutes long at literally lights up the skies of Lewisham and Greenwich.
The magnificent fireworks display is set to music and features a vast array of fireworks in a dazzling range of colour. Taking place on the 5th of November, there will also be a family funfair to entertain the whole family once the fireworks are over. Entry is free of charge, and the fireworks are set to go off at 8pm.
---
One for the little kiddies who tend to shy away from the loud explosions, Bristol Zoo's bangless fireworks displays is spectacular even without the explosions. More fireworks, more entertainment, more fun, less BANGS!
Now in its fourth year, the bangless bonfire night is getting more and more popular each year, and the display of enchanting 'low-noise' fireworks is a welcome change for families with smaller children. The display starts at 5pm this year.
---
A mammoth bonfire and fireworks display that runs every year at at Broadoaks field, Donington, Telford, that attracts over 20,000 spectators every year. Also accompanied by a huge funfair for all the family, including some pretty hair-raising rides for the adventurous, so it's very popular with local families of all ages.
The Donnington bonfire will be lit around 7pm, followed later by the fireworks display.
---
Fireworks safety
Please, always treat fireworks with respect - in inexperienced hands they can be dangerous. Stay within the law and get the most out of your fireworks by getting to know how to use them safely.
Visit Direct.gov Firework Safety webpage for advice how to handle fireworks for a safe but fun night.
---
Chalfont St Giles 'Magic in the Sky' Fireworks '15
Chalfont St Giles, Stone Meadow
46th Chalfont St Giles Magic in the Sky Firework Display 2015Venue: Stone Meadow, Chalfont St Giles, Bucks, HP8 4QAGates open 5.45pm, Bonfire Lighting ceremony to music 6.15pm, Musical Fireworks Display 7.00pm approx 20 minute pyromusical display produced by MiLKHU Pyro Productions. Featuring…
Location: Chalfont St Giles
The Big Bang: Charity Bonfire & Fireworks
Cheadle College campus
Recognised as one of the best bonfire and firework displays in Greater Manchester with fairground attractions, food and refreshments and Imagine FM roadshow, the event raises valuable income for the Together Trust.This year promises to be bigger and better than ever before…
Location: Stockport
Holly Trees Family Fireworks Night
Holly Trees Primary School
Join Holly Trees Fundraisers for their second annual Family Fireworks Night on Friday, 6 NovemberADVANCE TICKETS£5 per adult£2 per child under 2's FREEDOOR TICKETS£6 per adult£3 per child under 2's FREEAdvance tickets are now on sale via our online box office on…
Location: Brentwood
Fireworks Spectacular
Beaulieu
Be wowed by the explosive and dynamic fireworks display, set to a Ghosts and Ghouls theme.Have fun on the Beaulieu Rides & Drives and OldTime Fairground, all at good value extra charges. Hot food and drinks are available both inside and out,…
Location: Beaulieu
St Albans Fireworks Spectacular
Verulamium Park
St Albans Fireworks Spectacular in Verulamium ParkDate: Saturday 7th NovemberTime: 19:30 Gates open 18:00Come and enjoy a spectacular event full of stunning fireworks, music, food and fun for the whole familyTaking place in Verulamium Park, this amazing public display was started over…
Location: St Albans
Leeds Castle Fireworks Spectacular
Leeds Castle
There will be lights, camera, action for the biggest and best firework display in the South East of England. The incredible fireworks will this year, be timed to music from the movies. Lookout for scenes from the silver screen projected onto the…
Location: Maidstone
Mallory Bonfire and Fireworks Spectacular
Mallory Park Circuit
Remember, remember the 6th of November Mallory Park are proud to be supporting the Leicestershire and Rutland Blood Bikes for this year's Bonfire and Firework SpectacularOn Friday the 6th of November, come and enjoy a family fun fair, face painting, live music,…
Location: Kirkby Mallory
BRENT Fireworks Display (the big bang festival)
Byron Park Recreation Ground
BRENT FIREWORKS FESTIVAL 2015 the big bang festival The back of Harrow leisure centre MASSIVE DEALS UP TO 30 ONLY ONLINE http:www.brentfireworks.co.ukBrent Fireworks Festival on Saturday 7th November 2015 at Byron Park. We open our doors at 12 noon completely…
Location: Harrow
Barnet Fireworks Display (the big bang event)
Byron Park Recreation Ground
BARNET FIREWORKS FESTIVAL 2015 the big bang festival The back of Barnet leisure centre MASSIVE DEALS UP TO 30 ONLY ONLINE http:www.barnetfireworks.co.ukBarnet Fireworks Festival on Saturday 7th November 2015 at Byron Park. We open our doors at 12 noon completely…
Location: Harrow
Fireworks Festival 2015
Alexandra Palace
. This years display is bigger and brighter than ever with a longer running time and an epic laser show.But thats not all. So make sure you arrive early to enjoy everything the festival has to offer.Our popular German Bier Festival will…
Location: London
The Cuban Brothers Fireworks Night!
Prince of Wales Brixton
Pushing the musical boundaries through Hip Hop to Funk, via Ska, Soul & Breaks, we welcome the likes of Neneh Cherry, DJ Yoda, Krafty Kuts, Jazzie B and Daddy G. These are the tastemakers, the ground breakers and the floor shakers at…
Location: London
Uxbridge Fireworks Display (the big bang festival)
Byron Park Recreation Ground
UXBRIDGE FIREWORKS FESTIVAL 2015 the big bang festival The back of Uxbridge leisure centre MASSIVE DEALS UP TO 30 ONLY ONLINE http:www.uxbridgefireworks.co.ukUxbridge Fireworks Festival on Saturday 7th November 2015 at Byron Park. We open our doors at 12 noon completely…
Location: Harrow
Harrow Fireworks Display (the big bang festival)
Byron Park Recreation Ground
HARROW FIREWORKS FESTIVAL 2015 the big bang festival The back of Harrow leisure centre MASSIVE DEALS UP TO 30 ONLY ONLINE http:www.Harrowfireworks.co.ukHarrow Fireworks Festival on Saturday 7th November 2015 at Byron Park, Harrow.We open our doors at 12 noon completely…
Location: Harrow
HARROW FIREWORKS FESTIVAL 2015
Byron Park Recreation Ground
HARROW FIREWORKS FESTIVAL 2015 the big bang festival The back of Harrow leisure centre MASSIVE DEALS UP TO 30 ONLY ONLINE http:www.Harrowfireworks.co.ukHarrow Fireworks Festival on Saturday 7th November 2015 at Byron Park, Harrow.We open our doors at 12 noon completely…
Location: Harrow
Battersea Park Fireworks Display
Battersea Park Fireworks Dislapy
This years Battersea Park Fireworks display on November 7 will be themed Royal Night Out and will include music and laser effects. Entry is by advanced ticket only.Capital Radio DJ Christian Williams has been confirmed the host of this years Battersea Park…
Location: London
Shireoaks 'Stars in the Sky' Fireworks Display '15
Shireoaks Sports & Social Club
Shireoaks Stars in the Sky Firework Display 2015Venue: Shireoaks Sports & Social Club, Shireoaks Road, Shireoaks, Worksop, Nottinghamshire S81 8NAMusical Fireworks Display 8.00pm approx 10 minute pyromusical display produced by Milkhu Pyro Productions. Featuring a unique soundtrack. 'The most spectacular display…
Location: Shireoaks, Worksop
Fireworks Spooktacular
Lower Drayton Farm
On Saturday, 24th October Lower Drayton Farms annual Spooktacular Fright Night celebration will see crowds entertained by fairground rides, while those brave enough may wish to take on the Maize Maze by torchlight or take a stroll through the 'haunted wood'. The…
Location: Penkridge
Kaboom - North Yorkshire's Biggest Fireworks Party
Castle Howard
Recognised as one of the UK's top 10 firework displays, Kaboom combines the best of Halloween with the best of Guy Fawkes night and then adds a whole load more on topKaboom is North Yorkshire's biggest firework party. The explosive award winning…
Location: York
---