Fresh Art Fairs - now at Ascot Racecourse 20-22nd September 2019
NEWS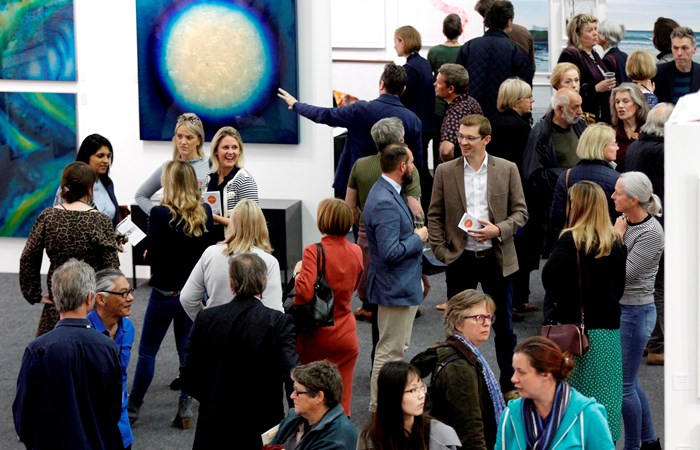 Fresh Art Fairs are the easiest way to browse and buy contemporary art.
---
---
Fresh: Art Fair: Ascot Racecourse, 20 - 22 September
www.freshartfair.net
53 galleries: 600 artists: 6,000 artworks
Featuring works by Warhol, Hockney, Hirst, Emin, Banksy, Blake and McLean
Britains fasted growing contemporary art fair Fresh will open at Ascot Racecourse this September hosting 53 leading Galleries from across the UK and Europe. There will be 6000 original prints and paintings, sculpture, glass and ceramics from 100 to 30,000. There will be 600 artists including emerging new talent, established professionals and Royal Academicians. Acclaimed sculptors Sophie Ryder and Adam Binder will be there, together with Royal Academy print-maker Rod Nelson, Sir Peter Blake, Hockney, Hirst, Emin, Banksy, Warhol and McLean.
Browsing and buying contemporary art has never been easier. With 53 galleries in one convenient place, Fresh: is the perfect way to see a huge volume of quality work in a couple of hours with coffee, lunch or a glass of wine. The Fair will also have a full programme of interactive Talks and demonstrations with at least six painters, sculptors and print-makers explaining their skills over the weekend. Talks will include Art in Interior Design by interiors expert Dee Campling and the intricacies of framing by London framer and fine art fabricator Darbyshire.
Unlike many other contemporary art fairs, Fresh: exhibits only Galleries. Exhibiting Galleries include Londons Quantum Contemporary Art, Cube Gallery and Gallery Different; Lime Tree Gallery from Bristol; Doorway Gallery, Sol Art and Gormleys all from Dublin, and Bruno Dahl from Denmark.
Hosting Galleries means we can show the work of far more artists, professionally hung in large room-like spaces, says Fresh: founder Eleanor Wardle. All our Galleries are experts with their fingers on the pulse of the market, so our visitors know they are looking at acknowledged talent and can buy with confidence
Visitors are also invited to bring up to three pieces (or photographs) of their old pre-contemporary art for a free valuation by Bonhams who will advise them on selling their art and may consign suitable works to an appropriate auction.
Were expecting around 6,000 visitors over the weekend, says Eleanor. There will be a Private View and drink reception on the Thursday evening with live jazz and first pick of the art. With well over a thousand guests therell be a huge buzz.
Fresh: have teamed up with Smart Works Reading as their partner charity for Fresh: Ascot 2019. Smart Works Reading is a charity that supports some of the most vulnerable women in society, working alongside referral partners to give women thethe best chance of succeeding at their job interview and moving on with their lives. They provide high quality interview clothes and interview coaching to unemployed women in need. Smart Works Reading has been operating for four years and has helped over 1,200 women.
We are passionate about the service we deliver, and the high impact intervention we use to build self-confidence and belief. Every day we see the transformation our service gives to women and are proud that 60-68% of the women we see successfully go on to secure employment. Building partnerships locally has paid a huge part in helping us support more women across the Thames Valley. We are thrilled to be chosen as Fresh Art Fairs (Ascot) charity partner this year and look forward to an amazing event in September. Sarah Burns MBE Chair Smart Works Reading
The Racecourse is less than twenty minutes from the M4, M3 and M25 with unlimited free parking and a mainline station 5 minutes walk. There will be NO racing, just ART. With two fabulous Fresh: Cafes and Ascots spectacular Racecourse, Fresh: makes an unmissable day out. Tickets are available for 6 in advance and 8 on the door at https://www.freshartfair.net/, and on Friday Fresh: will offer free entry for everyone.
WHEN
Friday 20th to Sunday 22nd September 2019
Private View Thursday 19th 5.30 to 9.00pm
Friday 11.00 6.00pm
Saturday 11.00 6.00pm
Sunday 11.00 5.00pm
TICKETS
Private View tickets: 10 per person online or 12 per person on the door
Weekend tickets: 6 per person online or 8 per person on the door
Children under 16 admitted free at all times
Friday is free all day. No ticket required
ENDS
About the author
https://www.youtube.com/watch?v=1v0siED3ai8&feature=youtu.be
---
---